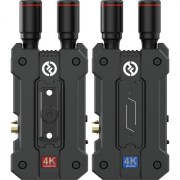 Hollyland Mars 4K Wireless Video Transmission System
Hollyland Mars 4K Wireless Video Transmission System ชุดส่งสัญญาณภาพไร้สาย รองรับสัญญาณ HDMI / SDI ความละเอียด UHD 4K30 ระยะทาง 150 เมตร ใช้งานง่ายด้วยหน้าจอ LCD ทัชสกรีน ใช้ไฟได้จากทั้ง USB Type-C, DC Adapter หรือแบตเตอรี่ L-Series รับภาพผ่านแอพได้สูงสุดถึง 4 อุปกรณ์
Key Features
Transmitter and Receiver Set

Transmit up to UHD 4K30 Video up to 450'

SDI & HDMI Inputs & Outputs

L-Series Battery/USB Type-C/DC Power

Smart Channel Scanning, Touchscreen LCD

Low 0.06s Latency, 12 Mb/s Data Rate

DC, L-Series & USB Type-C Power Options

Transmits to up to 4 x Apps as Monitor
Add up to 4K30 wireless video transmission to your gimbal, mirrorless, or DSLR camera rig using the lightweight Mars 4K Wireless Video Transmission System from Hollyland. The transmitter provides HDMI and SDI inputs and the receiver offers SDI and HDMI outputs. It features extremely low 0.06s latency with line-of-sight transmission up to 450' to the receiver.
Using the Hollyview app for iOS or Android, you can monitor your video transmission in real time via a Wi-Fi connection to your tablet or smartphone. The units also feature a built-in frequency scanner to select the clearest frequency for your transmission. The Mars 4K transmitter and receiver are compact in size, feature a bright touchscreen LCD display for configuration, and are built with a corrosion-resistant housing. Each unit can be powered using a USB Type-C source, the included locking DC power adapter, or by using a separately available L-series type battery using an optional battery plate.
Key Features
UHD 4K Video Transmission
The Mars 4K supports UHD 4K30 video transmission for the discerning videographer looking for high-resolution production capability. The Mars 4K also supports FHD and HD formats at varying frame rates such as 24, 30, and 60p.
Long Range and Low Latency
The Mars 4K achieves a long line-of-sight range of 450' and an ultra-low latency of 0.06s. Its upgraded dual-core codec chip is capable of a 12 Mb/s data transfer rate.
HDMI and SDI Interfaces
The Mars 4K supports HDMI and SDI input and output for expanded connectivity and compatibility. The SDI ports provide expanded frame rate flexibility for broadcast and production frame rate standards and compatibility through production and postproduction.
Form Factor
The Mars 4K features corrosion and wear resistance for durability. The design form factor optimizes operational functionality for fast configurations with wiggle-free, bullet-styled antennas attached.
Smart Channel Scanning
Channel assignment options allow for interference-free transmission. A stable connection is possible automatically upon startup. An intelligent channel scan helps determine which ones are occupied and selectable.
Color Touchscreen LCD
The Mars 4K features a color touch LCD with a user-friendly UI design that enables quick configuration and status checks. Its gamepad-styled button dramatically improves the operational setup experience.
Multiple Power Options
The Mars 4K supports various DC power options: 6 to 16 VDC coax input, L-series/NP-F batteries, and USB Type-C chargers.
App Monitoring
The Hollyview app for Android and iOS allows you to monitor your transmission on a smartphone or tablet. It allows you to transmit to apps and receivers in the following configurations:
Transmitter to 1 receiver + 2 apps
Transmitter to 4 apps
Mars M1 wireless transceiver monitor to 1 receiver and 2 apps
Specifications
Hollyland Mars 4K Specs
Antenna Ports: Transmitter/Receiver: 2 x RP-SMA Female
Video I/O: Transmitter: 1 x HDMI Input
Transmitter: 1 x BNC Input
Receiver: 1 x HDMI Output
Receiver: 1 x HDMI Output
Embedded Audio: HDMI/SDI
Power: Transmitter/Receiver: 1 x Coax Input
Transmitter/Receiver: 1 x USB-C Input
Encryption: None
Wireless
Wireless Range: 450' / 137.2 m (Line-of-Sight)
Channel Bandwidth: 20 MHz
Frequency Range: US: 5 GHz
Latency: 0.06 sec
Format Support
Video Format
HDMI
UHD 4K: 30
1080p: 60/30/24
SDI
1080p: 60/59.94/30/29.97/24/23.98
Timecode Support: Yes
Power
DC Input Power: 6 to 16 VDC
Environmental
IP Rating: None
Packaging Info
Package Weight: 2.465 lb
Box Dimensions (LxWxH): 10.6 x 7.1 x 2.6"