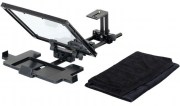 Filmcity Easy Teleprompter
FILMCITY has created a teleprompter for all applications. Whether you're doing ENG work and need a prompter that works quickly with a tablet, or your are working in a studio or a speech setting where screen size and clarity are high priorities, there is an easy teleprompter for your application. It is a highly flexible on-the-go prompting solution for corporate meetings,instructional videos, seminars or advertisements. This unique LCD mounting system allows the display to be placed at floor level for the least noticeable appearance. The display can also be raised halfway up the stand and hidden with the included skirting. It reflects the scrolling text in a highly visible form, from the tablet back at the onscreen talent while allowing the camera to maintain a direct eye line for a natural, direct-to-camera effect. This design allows you to use virtually any sized camera and its camera base plate includes a unique mount system for quick tripod mount capability. Unlike most teleprompters, it setups in under 2 minutes and does not require any tools.
Video is for demonstration only
Actual Product may vary due to Product Improvements
 Specifications
-  Material - Polyamide resin
-  Portable & Lightweight
-  Easy set up under 2 minutes. No tools required
-  Large glass will fit any professional or consumer camera
-  Red Dot indicate front side of glass
-  Weight : 1.60 kg / 3.52 lb
-  Dimensions of Projection Base : 7.8" x 12.2" ( L x B)
-  Dimensions of Glass : 9.4" x 7.8" ( L x B)
-  Dimensions of Iphone in Projection base : 6.4" x 3.5" ( L x B)
-  Projection base adjustment Front / Back : 3.5"
-  Camera base adjustment : 3.9"
-  Industry Standard 15mm Aluminum Rods
CRISP, HIGHLY CONTRASTED AND READABLE TEXT
This on-the-go prompting solution features 60/40 beamsplitter glass that reflects the scrolling text from the tablet or smartphone to your talent in a crisp clear manner from up to a 10ft reading range.
PROTECTIVE SUNHOOD BLOCKS EXTRA LIGHT
This high grade sunhood protects your lens from unwanted light thereby making the text readable.
SUPER COMPACT PROMPTER
This quality constructed teleprompter is designed to work with your smartphone and almost any camera.
EASY ASSEMBLY
No need to break out a set of tools, or plan on an hour of set-up. No tools needed at all. No complicated instructions to read for setting up the glass and rail system. We have made our prompter as easy and solid to use as possible. That way you can focus on the task at hand.
BAG PACKING
Protective Bag Packing for safe storage & easy transportation
The Supportive accessories are for demonstration purpose only.