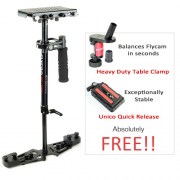 A Precise Camera Stabilizer
with Half a Million of Happy Customers
Quick & Precise Balancing, Style, Flexibility & Affordability - all wrapped in HD-3000 Stabilizer. The stabilizer has uncompromising quality and all the necessary features to get the job done at an affordable price. The HD-3000 stabilizer is designed in a manner that it eliminates all the shakes & lets you capture smooth gliding shots. Now you are free to move with your camera - panning, tilting, booming or running without any camera instability or shake.
NOTE: Handle's Foam Design may vary according to the availability.


Impeccable Construction
Aluminum black anodized stabilizer is strong yet light weight with payload up to 3.5kg / 8lb. It is a complete tool-less equipment that saves your production hours.
Let's bring to the fore the High Spots of the Stabilizer!
Camera Platform with Micro Balancing

The micro balancing feature on the camera platform helps to adjust the horizontal balance so precisely & quickly. The camera plate has 1/4"-20 and 3/8"-16 slots to accommodate all variety of cameras.




CNC Machined Gimbal with Foam Cushioned Handle

Comfortable Handle Grip is attached to a free floating, three axis Gimbal. This allows your hand to move up and down, and side-to-side freely.
The gimbal has ball bearings which provide rotational camera control with easy 'on axis' movements.




Dynamic Base Platform

The Base Plate contains weight disks that help in maintaining the dynamic balance of the stabilizer. Moreover, the base platform can manually be expanded or contracted to achieve perfect balance.




Telescopic Central Post
By changing the length of the no-tools telescopic Central Post, you adjust the camera's vertical balance.
Telescopic feature allows you to adjust the height for shooting at higher angle
Gifts for you!
Unico Quick Release
It helps in quick mounting and dismounting of the camera. The anti-twist lock screw on the plate stops your camera from twisting around.
Table Clamp

With a table clamp, it becomes easier to balance stabilizer quickly and also keeps you burden free from holding a stabilizer for long hours in between the shoots.




IMAGE GALLERY
The Supportive accessories are for demonstration purpose only.