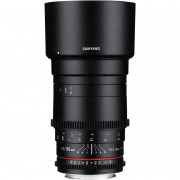 Samyang 135mm T2.2 AS UMC VDSLR II
Samyang 135mm T2.2 AS UMC VDSLR II Lens for Canon EF Mount เลนส์ในระบบ Cinema รองรับการใช้งานร่วมกับ DSLR-Movie หรือ Professional Video Camera ตัวเลนส์จะแสดงค่า T stop หรือที่เรียกว่า Transmission Light ที่บ่งบอกค่าแสงที่ผ่านจากตัวเลนส์ จะให้ค่าแสงที่มีความเที่ยงตรงมากกว่า F stop ซึ่งจำเป็นเป็นอย่างมากสำหรับงานวิดีโอที่ต้องการความเที่ยงตรงของแสง
โดยตัวเลนส์ออกแบบมาเป็นระบบ de-click คือวงแหวน aperture จะเป็นระบบเฟืองที่สามารถปรับค่ารูรับแสงได้ละเอียดตามความต้องการ แตกต่างจากเลนส์ Photo ที่จะหมุนเป็นช่วงแสงหรือเป็น click ซึ่งผลที่ได้อาจทำให้งานวิดีโอมีความไม่ราบเรียบของแสงตามที่ต้องการ
ประกอบกับตัวเลนส์ถูกออกแบบมาให้มี เฟืองโฟกัสที่เป็นเกลียวยื่นออกมา เพื่อใช้งานร่วมกับอุปกรณ์เสริมของงาน Cinema เช่นตัว follow focus ทำให้การบันทึกภาพเป็นเรื่องที่สะดวกและรวดเร็ว
Features
EF Mount Lens/Full-Frame Format
Aperture Range: T2.2 - T22
Manual Focus and Aperture
Geared Focus and Aperture Control Rings
The 135mm T1.5 AS UMC VDSLR II Lens for Canon EF Mount from Samyang is a manual focus prime lens. It provides a maximum aperture of T2.2 for effective low light capture and shallow depth of field control and a 9 blade iris for attractive bokeh. Optimized for cinema and video applications, the focus and aperture control rings are outfitted with industry standard gearing, which provides an interface for working with a traditional follow focus. The aperture control ring has also been de-clicked, which enables smooth iris pulls. In addition, bright aperture and distance markings are printed on the lens barrel facing laterally to facilitate easier control by a focus puller. The lens has a minimum focus distance of 2.6'. Internal focusing minimizes the effects of focus breathing, and the lens is composed of 11 elements in 7 groups. A lens multi-coating helps to improve light transmission reducing flare and ghosting. The filter thread diameter for attaching sunshades or filter rings is 77mm.
Each of the VDSLR II lenses will offer the same position of their geared focus and aperture rings so that follow focus and other rig accessories won't need re-adjustment when swapping lenses. Also, each lens is tested to be color matched with the other lenses in the series and provide the same color and contrast when shooting video, allowing you to add lenses to your kit over time without worrying about the color of your image changing significantly when swapping lenses. As an aid to focus pullers, the lenses are marked with focusing scales on each side of the barrel for easier adjustment from both sides of the camera.
Optimized for cinema and video shooting with geared aperture and focus rings, de-clicked aperture for smooth exposure transitions and side-facing aperture and distance markings. The 135mm T2.2 is part of the VDSLR II series of cine lenses, sharing characteristics and features that unify the series and make it easier for users to swap out lenses when shooting video. Each VDSLR II lens provides aligned focus and aperture rings so that readjustment of the follow focus is not necessary when switching lenses. Also each lens has been tested to match color and contrast for a consistent look and less potential post-processing. Finally, all lenses from this series print focus scales on both sides of the lens barrel for ease of use from each side of the camera.
Very fast T2.2 maximum aperture for effective low light capture and shallow depth of field.
Internal focusing system with 11 lens elements in 7 groups.
Lens multi-coating improves light transmission and reduces flare and ghosting.
Minimum focus distance of 2.6'
Filter thread diameter of 77mm
Specifications
Focal Length: 135mm
Lens Mount: Canon EF
Format: Full Frame
Maximum T-Stop: T2.2
Minimum: T-StopT22
Diagonal Angle of View: Super35: 11.7°
Full Frame: 18.8°
Minimum Focus Distance: 2.6' / 79.2 cm
Iris Blades: 9
Gear MOD & Pitch: Focus: 0.8 MOD / 32 Pitch
Iris: 0.8 MOD / 32 Pitch
Filter Thread: 77 mm
Length: 4.8" / 122 mm
Weight: 29.5 oz / 835 g