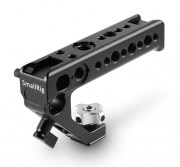 SmallRig Cold Shoe Handle 2094C
SmallRig Cold Shoe Handle 2094 ด้ามจับชุดริกสำหรับติดฮอทชูกล้อง ช่วยให้จับถือกล้องได้ถนัดมือ ออกแบบมาให้สามารถติดกับฮอทชูกล้องได้ง่ายด้วยน็อตขนาดใหญ่ พร้อมฮอทชูด้านบนสำหรับติดอุปกรณ์เสริม มีระบบป้องกันการลื่นหลุด รูสำหรับติดท่อขนาด 15 มม. สำหรับติดไมโครโฟน หรือ EVF และรูน๊อตขนาด 1/4" และ 3/8" รองรับการติดอุปกรณ์เสริมต่างๆ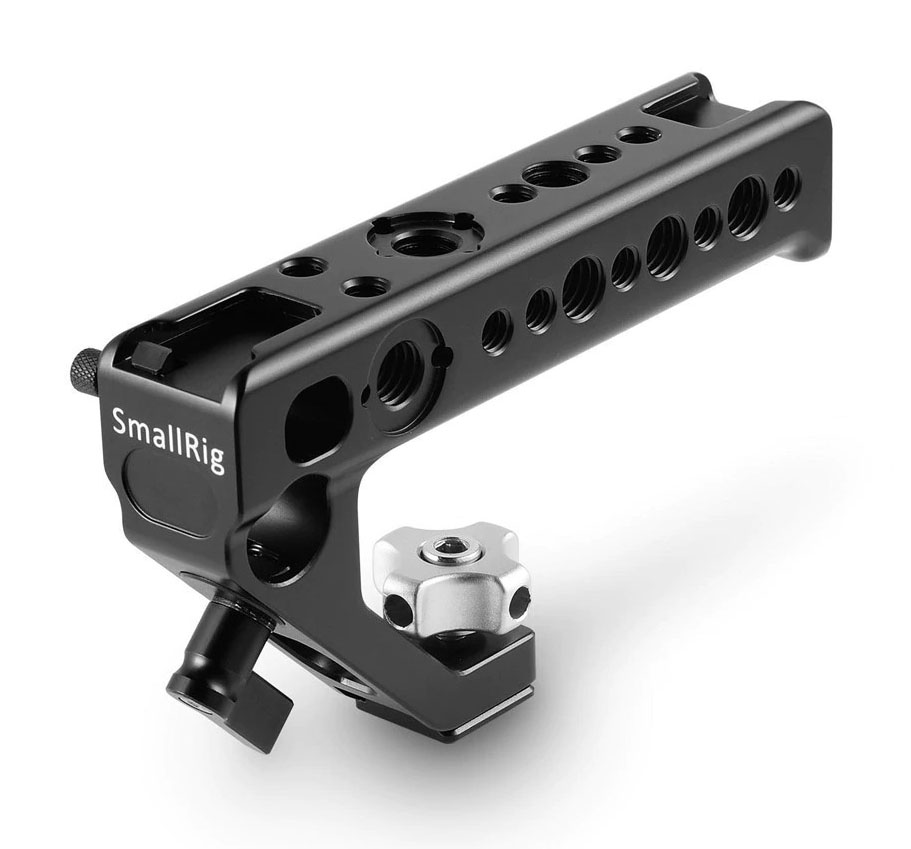 SmallRig Cold Shoe Handle 2094 is designed for DSLR cameras and cages. It offers lots of additional attachment options and enables the camera to release its potential to the utmost as per the needs of cameraman during shooting.
Key Features:
1.It could be mounted on the hot shoe of camera for handheld shooting.
2.It could be locked tight via a thumb screw manually and thus will not loose.
3.Built-in cold shoe on the top of handle is anti-off designed lest accessories with cold shoe adapter will drop down accidentally.
4.It comes with a 15mm rod clamp for 15mm rod whereby microphone bracket, EVF support and follow focus could be mounted.
5.It feels good due to the smooth structure and thus offers a very comfortable handheld experience for the cameraman.
It is equipped with an abundance of 1/4''-20 and 3/8''-16 threaded holes for DIY operations. It could be mounted with Monitor Holder Mount 1842 for monitor. Arri locating point on the top could attach Magic Arm 2026 for monitor. It comes with three built-in cold shoes. The one in the front could attach microphone directly or Magic Arm 1875 for monitor. It features an anti-off button on the side to prevent the accessories from accidental removal. The one in the rear could be mounted with wireless voice receiver. 
It comes with a built-in 15mm rod clamp to attach 15mm rod for NATO Rail with 15mm Rod Clamp 1910 and EVF Support 1594 and then monitor. It could also attach 15mm rod and then microphone bracket for microphone.
It features a cold shoe adapter at the bottom, with a thumb screw above operated manually to lock it tight. The cold shoe handle could be placed on the hot shoe of camera or mounted on the side of cage for handheld shooting.
Compatibility: 
Universal
Package Includes: 
1 x Cold Shoe Handle
Product Dimensions: 124x24.5x70 mm
Net Weight: 165g
Package Size: 180x100x40 mm
Material(s): Aluminum Alloy