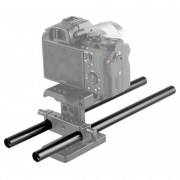 SmallRig 15mm Aluminum Rods 30cm 1053
SmallRig 15mm Aluminum Rods 30cm 1053 ท่ออลูมิเนียมสีดำขนาด 15 มม. ยาว 30 ซม. หนึ่งคู่ พร้อมเกลียวในสำหรับต่อเพิ่มความยาว
SMALLRIG Aluminum Alloy Pair of 15mm Rods(M12-12inch) 1053 are useful and easy to extend various 15mm-compatible accessories to the camera rig with inner M12 thread at ends.
The rods adopt highly reliable aluminum alloy, they have good abradability and anti-causticity, but more brighter and stronger than the original industry standard rods.
The package, a well-made and natty cardboard box!
Net weight: ONLY 79g/pcs
Includes: 2x 30cm rod
Material: hard anodizing aluminum alloy