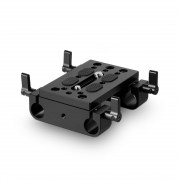 SmallRig Baseplate with Dual 15mm Rod Clamp 1775
SmallRig Mounting Plate with 15mm Rod Clamps 1775 เพลทติดใต้กล้องปรับตำแหน่งหน้า-หลังได้ พร้อมที่ติด Rod 15 mm สำหรับติดอุปกรณ์เสริม เช่น Matte Box, Follow Focus
SmallRig Mounting Plate with 15mm Rod Clamps 1775 is an aluminum plate with 15mm rod clamps for camera mounting, which provides protective and stable mounting options to camera devices.
The camera could be slid and adjusted along the middle groove, and accessories can be mounted via the 1/4'' and 3/8'' threaded holes. There are screws and rubber cushions for camera attachment and protection. It could be used to directly mount camera, cage and tripod etc.
On bottom, there are 15mm LWS rod clamps for matte box, lens support and follow focus. It enables use of standard accessories for the 15mm rod system. The wingnuts are used to mount or release the rods conveniently.
It is compact, practical and aesthetic.
Package Includes:
1x Cheese Plate
2x Rod Clamp 840
1x 1/4'' Screw
1x 3/8'' Screw
1x Hex Spanner
Dimension: 90x110x32mm
Net Weight: 285g