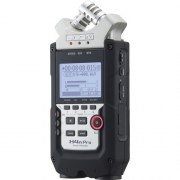 Zoom H4n Pro 4-Channel Handy Recorder
Zoom H4N Pro Recorder เครื่องบันทึกเสียงภาคสนามพร้อมไมค์สเตอริโอในตัว บันทึกได้สูงสุด 4 แทร็ค ช่องต่อไมค์ XLR สองช่อง 3.5mm หนึ่งช่อง จ่ายไฟ Phantom Power 24/48V บันทึกไฟล์ WAV, MP3 ลง SD Card ความละเอียดสูงสุด 24-bit / 96 kHz สามารถใช้เป็นอินเตอร์เฟส 2 In/2 Out กับคอมพิวเตอร์ได้ แถมโปรแกรม Cubase LE และ WaveLab LE มาพร้อมเคสพลาสติกอย่างดี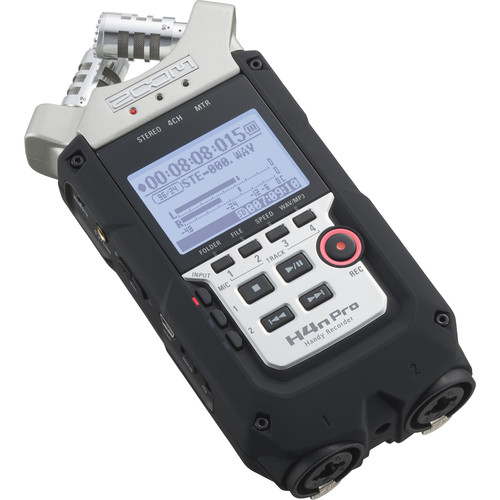 Adjustable Stereo X/Y Microphone
Can Record 4 Tracks Simultaneously
2 x XLR / 1/4" Combination Input Jacks
3.5mm Mic Input with 2.5V Plug-In Power
28 & 48V Phantom Power
Record & Play WAV & MP3 Formats
AD/DA Conversion up to 24-Bit / 96 kHz
Built-In Metronome and Chromatic Tuner
2-In/2-Out Interface via USB
Rubberized Body with Locking XLR Jacks
A portable recording device and a 2-channel USB interface in one palm-sized unit, the H4n Pro Handy Recorder from Zoom features a stereo X/Y microphone capable of handling 140 dB SPL, as well as two low-noise preamps with locking combination XLR / 1/4" inputs, multiple recording modes, on-board effects, a built-in metronome, a chromatic tuner, and more. As such, it's suitable not only for film-audio capture, podcasting, and field interviews, but for the creation and editing of multitracked audio in conjunction with DAWs.
The H4n Pro can record up to four simultaneous channels of audio at resolutions and sample rates higher than CD-quality, capturing sound sources in WAV and MP3 formats. It utilizes an SDHC card for storage and a USB connection for transferring material to your computer. A pair of standard AA batteries powers the device, and can provide up to 12 hours of continuous recording in Stamina mode (using NiMH 2450 mAh batteries). 
Built-In Stereo Mic in X/Y Configuration
The on-board X/Y stereo microphone is capable of handling sound pressure levels of 140 dB. It can also cover a wide berth whilst capturing any sound source in its center with precision. Both microphones are angle-adjustable: You can change the angle of capture from 90° (for a focused stereo image) or 120° (for a wider stereo image) simply by twisting each mic's capsule.
Back-Lit LDC Display
This device utilizes a back-lit LDC display that makes reading its panel on stage more convenient.
On-Board M/S Decoder
Perhaps you'd prefer to capture stereo audio by means of an M/S technique, rather than through the H4n Pro's X/Y-configured capsules. Should you wish to plug external microphones into the unit's preamp for this very purpose, the H4n Pro provides an on-board MS decoder, allowing you to adjust the width of the stereo image within the device itself. This is useful both for sound design and for broadcasting.
Connections
Revamped with the same low-noise preamps as the H5 and H6, the H4n Pro provides combination inputs for XLR or 1/4" connections, both balanced and unbalanced. As such, it can handle mic/line and instrument signals. 24 or 48V Phantom can be applied to both inputs. Additionally, a stereo 3.5mm jack for external devices—lavalier microphones, for example—is included. This jack supplies 2.5V power, if need be.
Portable Pocket Interface
Utilizing its mini-USB port, you can use the H4n Pro as a 2-in/2-out interface for computers, recording straight to your DAW via its preamps and monitoring through the 3.5mm stereo headphone jack.
Multiple Recording Modes
Record in stereo mode, four-channel mode (utilizing the on-board stereo mics in addition to the built-in preamps), or in multitrack mode, which makes use of built-in effects, overdub functions, and the ability to work with prerecorded material. Additionally, you can use the pre-record function—ensuring you always capture audio starting from two seconds before the moment you press record—or the auto-record function, which allows the H4n Pro to start recording whenever it senses audio, and to stop as soon as the signal drops below a pre-set threshold.
Onboard Effects
The H4n Pro offers a variety of effects, including compression, limiting, reverb, delay, echo, a low-cut filter, and more. You also get an on-board metronome and tuner, along with dozens of amp models and effects crafted for guitars and basses. Furthermore, you can loop playback, adjusting the pitch and speed of the audio independently; this makes the H4n Pro a tool suitable for transcriptions, whether you need to get the words of a particularly fast talker down on paper, or the notes of a particularly fast guitar solo under your fingers.
Cubase LE and WaveLab LE Included
The H4n Pro includes licenses for Steinberg's Cubase LE music production software, as well as WaveLab LE audio editing software. This is particularly useful for those who hope to create their own music utilizing the Pro's USB audio interface function.
Rubberized and Secure Construction
The H4n Pro sports a rubberized body and revamped locking XLR/TRS connection points to keep your mic cables secure.
Additional Features
Record up to 140 dB SPL with X/Y microphones.
Output/headphone jack with dedicated volume control.
Built-in reference speaker for fast playback.
Internal mix-down: Four-track to stereo and stereo to dual mono.
Up to 99 marks per recording.
Normalize (maximum gain) and Divide (file-splitting) functions.
Mounts to mic stand or tripod, or directly to DSLR with optional Hot Shoe adapter.