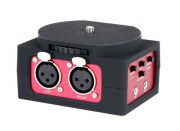 Saramonic SR-AX101 Dual XLR Inputs Audio Adapter
Saramonic SR-AX101 Dual XLR Inputs Audio Adapter มิกเซอร์ขนาดเล็กกะทัดรัด สำหรับรับสัญญาณเสียงคุณภาพสูงแบบ XLR 2 แชนแนล เพื่อบันทึกเข้าช่องไมค์ 3.5mm ของกล้องวิดีโอหรือ DSLR ออกแบบมาให้ติดตั้งใต้กล้องได้ทันที  ทำงานได้โดยไม่ต้องใช้แบตเตอรี่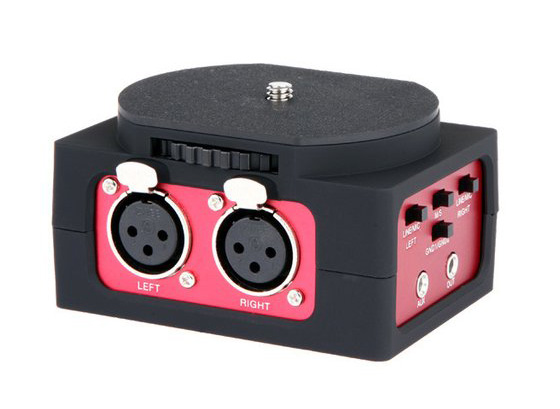 The SARAMONIC SR-AX101 is a 2-channel XLR audio adapter ideal for any DSLR camera or compact camcorder with a built-in microphone jack.
This audio adapter enables you to acquire professional audio from XLR outputs into any camcorder that has a 3.5mm (1/8") audio input. 
The SR-AX101 allows you to connect to a wide variety of professional audio devices, including balanced XLR microphones, wireless microphones, external audio mixers, preamplifiers and more.
A passive circuit makes the SR-AX101 virtually noise free. No batteries or additional power source is needed. Cased in resilient plastic chassis, featuring tripod socket.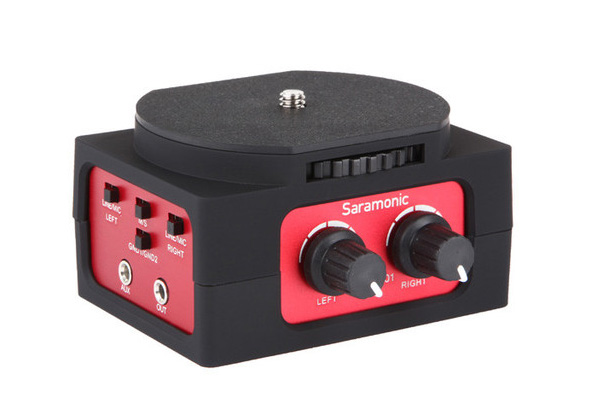 Features
Inputs:
One 1/8" (3.5 mm) Auxiliary Mini-Jack Input
Two balanced XLR inputs
Output:
One stereo 1/8" (3.5 mm) Mini-Jack Output
Dual Trim Control Knobs:
Adjust the signal of each channel to the optimum recording level
Mono /Stereo Switch:
Select mono or stereo output mode
LINE / MIC Switches:
Select LINE or MIC levels
GND1/G ground switch:
Eliminate ground hum and noise 
Specifications
Input Level
MIC:-35 dBu 
LINE:-10 - +4 dBu
Output Level
General Mic Levels
Frequency Response
10Hz to 100 KHz (+/-1.5 dB)
Dimensions
8.7 (L) x 8.0(W) x 5.2(H) cm
Weight
191g (6.7oz.)
Warranty
1 Year