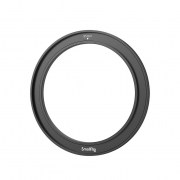 SmallRig 95-114mm Threaded Adapter Ring for Matte Box 2661
SmallRig 95-114mm Threaded Adapter Ring for Matte Box 2661 อแดปเตอร์ติดหน้าเลนส์ขนาด 95 มม. แปลงเป็น 114 มม. สำหรับติดแมทบ็อกซ์
Key Features:
1. Designed for SmallRig Matte Box 2660
2. Reduces 114mm Opening to 95mm
3. Non-rotating Threaded Adapter Ring
SmallRig 95-114mm Threaded Adapter Ring for Matte Box 2661 is designed to adapt your lenses with a filter thread of 95mm to 114mm in diameter that allows you to mount the Matte Box 2660.The ring screws onto the front of the lens firmly via the thread with a low probability of looseness. The surface of the adapter ring is matte finish to reduce reflections.
Designer: Victor Tang、Jerry Zhang
Compatibility:
Lenses with 95mm Filter Thread
SmallRig Lightweight Matte Box 2660
Package Includes:
1 x 95-114mm Threaded Adapter Ring
Product Dimensions: 105 x 105 x 5mm
Package Dimensions: 140 x140 x 23mm
Net Weight: 33g±5g
Package Weight: 93g±5g
Material(s): Aluminum Alloy