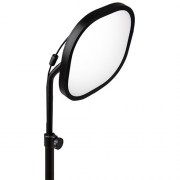 Elgato Key Light Air ไฟ LED พาเนลให้แสงนุ่มกระจาย ปรับอุณหภูมิสีได้ 2900-7000K กำลังไฟสูงสุด 1400 lumens ควบคุมจากสมาร์ทโฟนผ่านสัญญาณ Wi-Fi หลอด LED คุณภาพสูงจาก OSRAM จำนวน 80 ดวง ให้แสงที่กระจายสม่ำเสมอ ขาตั้งไฟมาพร้อมฐานถ่วงน้ำหนัก ปรับความสูงได้ 26-38 นิ้ว รองรับการใช้งานร่วมกับ Elgato Stream Deck หัวบอลปรับทิศทางไฟได้อิสระ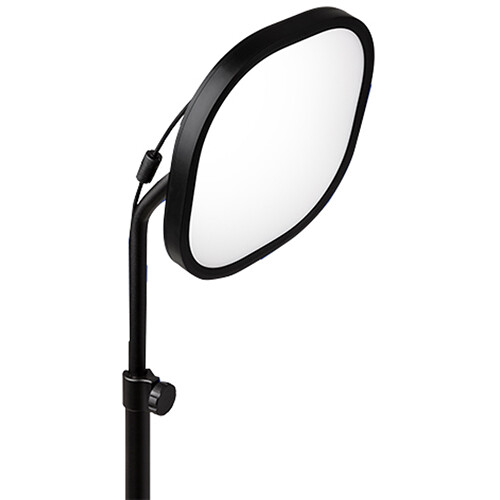 Key Features
Color Temp: 2900-7000K, CRI: 92

Wi-Fi, 2.4 GHz, 802.11 b/g/n

Light Measures 8 x 8 x 1"

Adjustable Stand/Pole: 23.6-34.7"

Base Measures 8 x 6 x 1"
This Key Light Air from Elgato offers a soft, diffused quality of light. You can use Wi-Fi to control the light wirelessly from your smartphone. Color temperature can be adjusted between 2900 to 7000K or anywhere in between, and maximum output is approximately 1400 lumens. Meant to be desk-mounted, the Key Light offers optimal customization for working close up.There are 80 OSRAM LEDs set in the edge of the panel with multi-layer diffusion technology for a very even light. The telescopic pole stand has a weighted base and a 26 to 38" adjustable height. The light is compatible with Elgato's Stream Deck. Convenience features include a channel in the stand for the cable to slip into, while the ball and socket joint is easily accessed.
Precision Engineered
Key Light Air gets your camera feed looking professional. But you'll want to use it for everything
State of the Art
Industrial-grade LEDs deliver constant intensity while keeping cool for hours on end, allowing you to work without breaking a sweat
Control at Your Fingertips
Key Light Air connects wirelessly to your PC, Mac, Android device or iPhone. So you can adjust brightness and color via the Control Center app, and get real-time onscreen feedback
Easy on the Eyes
Edge-lit LED architecture coupled with multi-layer diffusion technology provides indirect, ultra-soft illumination. 
Form and Function
A slender design and modest footprint means Key Light Air fits easily into any setup. Finer details - like a forward-reaching profile and height hatch marks - make it remarkable
Works with Stream Deck
Adjust the brightness up or down in steps

Adjust the color temperature up or down in steps

Set the color temperature to a specific level

Turn Key Light Air on or off
Specifications

Light Fixture
Lumens: 1400
Color Temperature: 2700 to 7000K
Color Accuracy Standard: CRI 92
Cooling System: Passive
Dimming: Yes
Number of LEDs: 80
Fixture Dimensions: 80.7 x 80.7 x 0.6" / 205.0 x 205.0 x 1.4 cm
Fixture Weight: 19.4 oz / 550 g
Remote Operation
Remote Control Type: Wi-Fi
Power
Power Source: AC Adapter
Max Power Consumption: 25 W