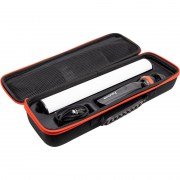 Aputure MT Pro LED Tube Light
Aputure MT Pro LED Tube Light ไฟ LED แบบหลอด ปรับสีแบบ RGB, HSI, CCT เอฟเฟกต์ในตัว 9 แบบ เอฟเฟกต์พิกเซล 7 แบบ รองรับการควบคุมระยะไกลผ่าน CRMX, DMX และการเชื่อมต่อผ่านแอพ Sidus Link ในชุดมาพร้อมกริดควบคุมการกระจายแสง, ขาตั้งพร้อมหัวบอลขนาดเล็ก, สายชาร์จ USB Type-C และเคสอย่างดี
The MT Pro is Aputure's first-ever full-color mini LED tube light. Condensed into its compact 1-foot frame, the MT Pro shines brightly with professional features that stand above the rest – including industry-leading pixel density and wireless CRMX connectivity. 
The MT Pro is the perfect fit for all levels of filmmakers, photographers, and content creators – as an in-camera practical, on-camera fill light, hidden accent, or for on-the-go content creation and product cinematography. 
Industry-leading pixel density. The MT Pro packs 36 ultra-fine RGBWW pixels inside of a 1-foot mini LED light and includes CCT with G/M, advanced HSI, xy*, RGB tunability controls, and incredibly smooth pixel chases and effects with built-in System FX – making it practically impossible to distinguish between individual pixels with the naked eye.
Compact design. Designed with professionals in mind, the solid construction of the 1-foot MT Pro maintains Aputure's high standard for build quality while utilizing a lightweight, 391g aluminum frame. Its ultra-thin bezels and 180° aperture also blend seamlessly into any environment, making it perfect for in-camera practicals.
Professional connectivity. Whether connected remotely using LumenRadio CRMX, externally via wired DMX**, or directly through the Sidus Link mobile app, the MT Pro ensures seamless integration into existing lighting workflows.
MAIN FEATURES
- 7.5W Output Pixel-Mappable RGBWW Mini Tube LED
- 614 lux @ 0.5m (6500K)
- Industry-Leading Pixel Density: 36 Pixels in 1 Foot
- CRI: 95, TLCI: 98, TM-30 Rf (ave.): 93, TM-30 Rg (ave.): 102, SSI (D56): 73; SSI (Tungsten): 84
- Fully Tunable CCT from 2,000K to 10,000K
- Built-In Lithium Polymer Battery (Approx. 120 min. @ Max Power)
- Advanced HSI with White Point CCT Control
- Multiple Control Methods: Sidus Link Bluetooth App Control, DMX/RDM*, LumenRadio CRMX
- Supports SidusPro® FX: Manual FX, System FX, Picker FX, Magic Program, and Music FX
- 9 Built-In System FX, 7 Built-In Pixel FX
- …and more!
WHAT'S IN THE BOX
- 1x MT Pro
- 1x 45° Fabric Light Control Grid
- 1x Mini Tripod with 1/4-20 in Ball Head
- 1x USB Type-C Charging Cable
- 1x Carrying Case
Specifications
| | |
| --- | --- |
| CCT | 2,000K - 10,000K |
| CRI | ≥95 |
| TLCI | ≥98 |
| CQS | ≥96 |
| SSI (D56) | ≥73 |
| SSI (Tungsten) | ≥84 |
| TM-30 RF (Average) | 93 |
| TM-30 RG (Average) | 102 |
| Max Power Output | 7.5W |
| Max Power Consumption | 9W |
| Lumens | 770lm |
| Max Operating Current | 1.0A |
| Operating Voltage | 7V |
| Charging Input | USB Type-C, 5V/2A |
| Lithium-Polymer Battery | 4200mAh 3.7V, 15.5Wh |
| Battery Life | Approx. 120 Mins @ Max Output |
| Charge Time | Approx. 120 Mins (5V/2A) |
| Pixel Mapping | 36 Pixels |
| Operating Temperature | -10º ~ 45ºC / 14ºF ~ 113ºF |
| Dimming | 0-100% |
| Control Methods | On-board, Sidus Link App, DMX/RDM, LumenRadio CRMX |
| Wireless Operating Range (Bluetooth) | ≤80m / ≤262.5ft |
| Wireless Operating Range (LumenRadio) | ≤100m / ≤328ft |
| Screen Type | OLED |
| Firmware Upgradeable | Sidus Link |
| Cooling Method | Passive Cooling |
| Dimensions | 30.0 x 4.0 x 3.5cm / 11.81 x 1.57 x 1.38in |
| Weight | 391g / 0.86lbs |
DIMENSIONS
| | |
| --- | --- |
| Lamp | 30.0 x 4.0 x 3.5cm |
|   | 11.81 x 1.57 x 1.38in |
WEIGHT
PHOTOMETRICS
| | | | |
| --- | --- | --- | --- |
| CCT | Distance | No Accessories | Light Control Grid (45°) |
| 2000K | 0.5m | 289 lux / 27 fc | 257 lux / 24 fc |
|   | 1m | 78 lux / 7 fc | 70 lux / 7 fc |
| 2700K | 0.5m | 526 lux / 49 fc | 471 lux / 44 fc |
|   | 1m | 143 lux / 13 fc | 128 lux / 12 fc |
| 3200K | 0.5m | 532 lux / 49 fc | 476 lux / 44 fc |
|   | 1m | 144 lux / 13 fc | 129 lux / 12 fc |
| 4300K | 0.5m | 548 lux / 51 fc | 490 lux / 46 fc |
|   | 1m | 149 lux / 14 fc | 133 lux / 12 fc |
| 5600K | 0.5m | 585 lux / 54 fc | 523 lux / 49 fc |
|   | 1m | 159 lux / 15 fc | 142 lux / 13 fc |
| 6500K | 0.5m | 614 lux / 57 fc | 549 lux / 51 fc |
|   | 1m | 167 lux / 16 fc | 149 lux / 14 fc |
| 7500K | 0.5m | 577 lux / 54 fc | 515 lux / 48 fc |
|   | 1m | 157 lux / 15 fc | 140 lux / 13 fc |
| 10000K | 0.5m | 514 lux / 48 fx | 460 lux / 43 fc |
|   | 1m | 139 lux / 13 fc | 125 lux / 12 fc |
| Red | 0.5m | 151 lux / 14 fc | 142 lux / 13 fc |
|   | 1m | 42 lux / 4 fc | 37 lux / 3 fc |
| Green | 0.5m | 253 lux / 24 fc | 225 lux / 21 fc |
|   | 1m | 70 lux / 7 fc | 61 lux / 6 fc |
| Blue | 0.5m | 56 lux / 5 fc | 48 lux / 4 fc |
|   | 1m | 18 lux / 2 fc | 12 lux / 1 fc |