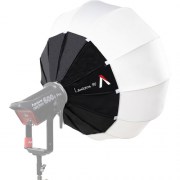 Aputure Lantern 90 ซอฟท์บ็อกซ์ทรงกลมขนาด 90 ซม. ประกอบติดตั้งได้ง่าย ใช้ร่วมกับไฟ LED เมาท์ Bowen พร้อมผ้าคอนโทรลแสง 4 ด้าน 
Key Features
3-Foot Diameter

1-Stop White Translucent

Includes Skirt for Controlling Light

Near 360° Beam Angle

Built-In Bowens Speed Ring

For Hanging Overhead

For LEDs or Strobe
Made for use with LED or strobe fixtures, the Lantern 90 from Aputure casts a near 360° soft light that spreads evenly over a large area. You can mount it horizontally or hang it overhead on a boom to raise the ambient light level, open up shadows, and let more focused fixtures work their magic.
To add versatility to the lantern, Aputure includes a skirt to control the light. Using the skirt on all four sides limits the beam to a pool of soft light, while covering one side directs the light or creates a light-to-dark ratio to add dimension. The Lantern 90 has a Bowens speed ring for Aputure lights, but it can also be used on lights made by the many other manufacturers that employ this popular mount.
Specifications
Item Type: 3' Lantern Softbox (Rounded Shape)
Interior Color: White (Translucent)
Light Compatibility: Built-In Speed Ring with Bowens S Mount
Quick Open Type: No
Accepts Grids: No
Removable Front Face: No
Interior Baffle: Yes
Dimensions: ø: 0.6 x H: 4.9' / ø: 18 x H: 150 cm (Closed)
ø: 3 x H: 2.3' / ø: 90 x H: 70 cm (Open)
Weight: 5.71 lb / 2590 g
Packaging Info
Package Weight: 7.7 lb
Box Dimensions (LxWxH): 46 x 8 x 8"