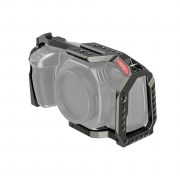 SmallRig Full Cage for BMPCC 4K & 6K (Dark Olive) 2766
SmallRig Full Cage for BMPCC 4K & 6K (Dark Olive) 2766 ชุดริกกล้อง Blackmagic Design Pocket Cinema Camera 4K / 6K  สีพิเศษ Dark Olive พร้อมราง NATO ในตัวด้านบน และฮอทชู ประแจหกเหลี่ยมซ่อนในตัวเคจ รูน๊อตขนาด 1/4", 3/8" และ Arri สำหรับติดอุปกรณ์เสริม ยึดติดกล้องแน่นหน้าด้วยน๊อตสองจุดบน-ล่าง 
Key Features:
1. Form-Fitting Cage for BMPCC 4K and 6K Cameras.
2. 1/4"-20 & 3/8"-16 and ARRI-Style Accessory Threads.
3. Integrated NATO Rails and Cold Shoe Mount.
4. Secures Camera on the Top and Bottom.
5. Built-In Allen Wrench.
SmallRig Full Cage for BMPCC 4K & 6K (Dark Olive) 2766 provides accessory mounting and protection for your camera. It features multiple mounting points including NATO rails, 1/4"-20 & 3/8"-16 mounting threads, ARRI-style accessory mounts, and cold shoe. The cage is securely fixed to the camera by 1/4"-20 screws on the top and bottom and incorporates locating pins and rubber pads for a snug fit on your BMPCC 6K or 4K camera. An Allen wrench that stores in the base is included to help tighten the camera screw. It works with SmallRig Samsung T5 SSD Holder 2767, SmallRig Cable Clamp 2768, and SmallRig Lens Adapter Support 2769 to set up a rig for video shooting.
Designer: Victor Tang、Jerry Zhang
NOTE:
1.Before tightening the bottom screw, please put the camera into the cage and align the locating pins first.
2.Not compatible with VH2299.
Compatibility:
Blackmagic Design Pocket Cinema Camera 4K
Blackmagic Design Pocket Cinema Camera 6K
Package Includes:
1 x Cage
Product Dimensions: 191 x 114.5 x 82.5mm
Package Dimensions: mm
Net Weight: 269g±5g
Package Weight: 395±5g
Material(s): Aluminum Alloy, Rubber