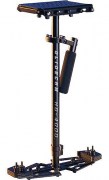 Glidecam HD-4000 สเตดี้แคมรุ่นยอดนิยมจากประเทศอเมริกา ปรับบาลานซ์ง่าย ผลิตจากวัสดุคุณภาพสูง ทำให้ภาพที่ได้มีความไหลลื่นนุ่มนวล รองรับน้ำหนักกล้องได้ 4.5 กก. พร้อมเวทถ่วงน้ำหนัก 12 แผ่น 
Designed for compact and full size cameras weighing from 4 to 10 pounds.
X,Y Head Dimensions: 8.75" x 5" x 1"
Base Platform Dimensions: shortest—13.75" x 4.75" Longest—18.25" x 4.75"
Central Support Post: 1" diameter
20" tall in shortest mode
28" tall in longest mode
Weight: 3.3 pounds without Counter Weight Plates.
Each Custom Counter Weight Plate averages .272 pounds.
The Glidecam HD-4000 includes 12 custom Counter Weight Plates.
12 Counter Weight Plates = 3.264 pounds
Camera Mounting Plate has 1/4" & 3/8" mounting holes
Base Platform has 1/4" mounting hole for optional LCD Monitor attachment.
Made in USA.