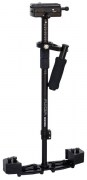 Flycam Redking Stabilizer
Flycam Redking สเตดิแคมรุ่นใหม่ออกแบบมาให้ใช้งานได้สะดวกยิ่งขึ้น รองรับน้ำหนักกล้องถึง 7 กิโล เพลทด้านบนปรับบาลานซ์ได้ทันทีไม่ต้องปลดล็อก เพลทติดกล้องขนาดเดียวกับเพลท Manfrotto ด้ามจับปรับเลื่อนขึ้น-ลงได้ ช่วยในการปรับบาลานซ์ และสามารถพลิกกลับหัวถ่ายมุมต่ำได้ทันที แกนกลางมีสเกลบอกตำแหน่ง มาพร้อมกระเป๋าอย่างดี
Precision Camera Stabilizer
Designed for you to fulfill all demanding stabilizer requirements.
Flycam introduces its professional and rugged Redking handheld video stabilizer; designed for film and video cameras. Redking works so well that it allows you to shoot incredibly smooth and graceful shots even while going to extremes like running up and down stairs or traveling over rugged terrain. And when it comes to normal shooting, like walking or moving the camera slowly around someone, the results are equally magical. All you need is your imagination, and you are ready to portray it with our state-of-art handheld camera stabilizer.
Video is for demonstration only
Actual Product may vary due to Product Improvements
Professionally Constructed Stabilizer
Redking Stabilizer is completely CNC machined which adds value to its precisely designed parts. Overall aluminum construction makes it quite robust yet lightweight. It is a durable gear that will be successfully operated for years to come. It is highly compatible with all the cameras weighing up to 7kg/15lb.
Camera Platform with Dovetail Quick Release
The sturdy camera platform has a sliding dovetail quick release plate that enables you to mount or dismount the camera setup easily & quickly. The knobs help to achieve X & Y adjustments of the camera platform for horizontal balance. Moreover, the markings on platform offer quick & precise adjustments.
Ergonomic design offers quick and precise adjustment of camera balance platform
Adjustable 3-Axis Gimbal with Foam Cushioned Handle
Precisely constructed three-axis adjustable gimbal has ball bearings which provide rotational camera control with easy 'on axis' movements. The gimbal can be positioned on the marking scale to adjust the system's vertical balance. It also allows low mode operation. The foam cushioned handle that is attached with the gimbal makes handheld shooting comfortable.
Uniquely and proprietary incorporate several adjustments to provide perfect angle shots
Telescopic Post with Marking Scale
By changing the length of the no-tools telescopic Central Post, you adjust the camera's vertical balance. For operator's convenience, the telescopic post has marking scale for adjustable three-axis gimbal.
Laser Engraved Guide Scale Markings for accurate balancing
Dynamic Base Platform
The Base Platform contains weight discs that help in maintaining dynamic balance of the stabilizer. Moreover, the base platform can manually be expanded or contractedaccording to operator's convenience to achieve perfect balance.
Adjustable counter weights helps you fine-tune your camera's dynamic balance
TELESCOPIC SLED
Tool-less telescopic centre post transforms according to your shooting needs
IMAGE GALLERY

The Supportive accessories are for demonstration purpose only.