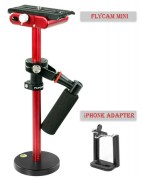 Flycam Mini with iPhone Adapter
Custom design - Precision engineering
Micro Adjustment for quick balancing
Eliminates camera shake
Lightweight stabilizer
Quick & easy setup process
Smaller, lighter, faster has become the industry trend in DSLR cameras and video camcorders. Many have features that rival those of their big brothers with results. We have developed an-all new Flycam Mini to capture images with the camera platforms that support them. 

It is portable enough that you can simply pick up and start using for shake-free videos. 

The wheelbarrow ensures a smooth rotational motion and added comfort for you whether you are moving it side to side, panning or booming. 




The Camera plate has both 1/4" and 3/8"mounting capability to accommodate a variety of camera bases. You can adjust your camera with base plate on both the horizontal and vertical axis by using the thumbscrews and a movable camera plate. 




A special designed wheelbarrow bearing provides rotational control for easy on axis rotation and carries a load up to 0.55lbs. The handgrip swivels both left and right from the bolt and you can easily move the gimbal up and down with the knob. The knob at the bottom of telescopic post helps in adjusting the height of stabilizer. Features a stable base platform with in-built leveler for maintaining the accurate balance. 



IMAGE GALLERY
Extends your reach by moving your camera in a more efficient manner 


 
Capture your special moments in a more creative way 


 
Perfectly seize the adventurous shots with exceptional freedom 


 


Exclusive

 of Camera, Camcorder and Iphone