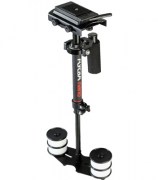 Flycam Nano Camera Stabilizer System allows you to shoot incredibly smooth & graceful shots. It is designed to hold your camera and keep it stable even when you are in extreme situations like running, going up and down stairs or walking on the rugged surface.
Specifications
-  Construction - Aluminum black anodized stabilizer
-  Weighing capacity - 1.5kg/3.3lb
-  Quick release Mounting screw: 1/4"-20
-  Balancing weights - made of MS powder coating
-  Length extendable from 30cm to 48cm
-  Top plate dimensions - 5.25 x 3 inches
-  Plastic Quick release dimensions – 3.5 x 2.5 inches
-  Number of weights - 16 pcs
-  Weight disc dia - 48mm
-  Single disc weight – 54 grm
-  Diameter of sled - 16.25mm
-  Stabilizer Weight - 2.2 lbs
-  Handle's internal dia - 19mm
Video is for demonstration only
Actual Product may vary due to Product Improvements
View More Videos Her 
Professionally Constructed Stabilizer

The aluminum black anodized stabilizer is strong yet light weight. It is compatible with wide range of cameras and has a weighing capacity of 1.5kg/3.3lb.
The sections of the stabilizer that help in giving great output !
 

Sturdy Camera Platform

The base plate of the stabilizer has 1/4" mounting slots which are compatible with all the camera bases. The control knobs allow quick & precise adjustment of the top stage's back - forth, and side-to-side movement.

 
 

Robust Quick Release Plate

The quick release plate with 1/4"-20 standard screw, allows quick mounting and dismounting of the camera.

 
 

CNC Machined Gimbal with Foam Cushioned Handle

Handle Grip is attached to a free floating, three axis Gimbal - this allows your hand to move up and down, and side-to-side freely. The gimbal has wheelbarrow bearing which provides rotational camera control with easy 'on axis' movement and isolates your arm's unwanted motion from the camera.

 
 

Counterweight Plate

This stabilizer system contains weight disks that help in maintaining the dynamic balance of the stabilizer. Add or remove weight disks to maintain the balance as per your camera setup requirment.

 
Telescopic Central Post

By changing the length of the no-tools telescopic Central Post, you adjust the camera's vertical balance. The camera freely floats when properly balanced; ready for you to move into action.
Bag Packing
To make it more travel friendly and for a safe storage, Flycam nano Nano comes packed in a storage case.