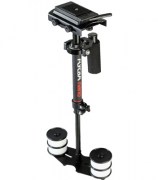 Flycam Nano Handheld Stabilizer is one of the most popular camera steadycam & time - tested tool that adds professionalism in your shots
Nano has already made its place in the hearts of its users by its incredible functionality & performance. More than half a million pieces sold, it still stands as the first choice of both amateurs & pros. 

This Incredibly amazing gear enables you to control your camera more precisely and comfortably!
Capable of adjustments according to the user's need, tool less telescopic sled, movable camera base plate & other features adds to the great output. To render picture perfect shots without jiggles is something Flycam Nano Video Stabilizer knows best!
INCLUDED
-  Flycam Nano with Quick Release Adaptor Plate
-  iPhone Adapter  
-  GoPro Adapter (Added on 28-Sept-2015)
-  Storage Case
SPECIFICATIONS
-  Construction - Aluminum black anodized stabilizer
-  Weighing capacity - 700gms/1.5lbs
-  Balancing weights - made of MS powder coating
-  Stabilizer Max Length – 48 cm
-  Stabilizer Min Length – 30 cm
-  Top plate dimensions - 5.25 x 3 inches
-  Quick release dimensions – 3.5 x 2.5 inches
-  Camera Mounting screw - ¼"
-  Number of weights - 16 pcs
-  Weight disc dia - 48mm
-  Single disc weight – 54 grm
-  Stabilizer dia - 16.25mm
-  Stabilizer Weight - 2.2 lbs
-  Weight disc thickness - 4mm
FEATURES
-  Perfect balance made easy by adjusting system weights. 
-  Secure weight attachment to the plate by 1/4 screw.
-  Fully adjustable telescopic sled for perfect balance New visual and revised copy.
-  Complimentary quick release plate.
-  Comfort grip for Camera Stabilizing System-no more shaky cams and blurred pictures.
-  Hi- Strength black anodized Aluminum Steadycam.
-   Designed for compact and light weight cameras weighing up to 700gms/1.5lbs
-   Shoot incredibly smooth & graceful shots.
-   Fully Adjustable 30cm – 48cm Telescopic sled for perfect balancing
-  3-Axis Gimbal Handle with soft rubber hand grip.
-  Easily get that 'perfect' shot in any camera position.
-  Ten weight discs to balance your camera.
-  Industrial grade Camera Platform knobs. 
-  Fatigue free soft hand-grip foam.
-  100% satisfaction Guarantee.
TELESCOPIC POST
In order to adjust the camera's vertical balance you can adjust the length of telescoping Central Post, When balanced properly the camera floats, ready for you to move into action.
An ultra-smooth, elegant handheld camera stabilizer system with telescopic structure
TOP PLATFORM
The Camera Base plate of the camera stabilizer has 1/4" mounting slots (holes) to hold most camera bases. The control knobs allow quick, precise adjustment of the top stage's back and forth, and side-to-side movement.
GIMBAL HANDLE
-Wheel barrow bearing for smooth rotational movement
- Grip swivels left and right from the bolt
- Easy vertical movement
- Angle bracket enables grip to move up and down 
- Comfortable handle moves up and down or side-to-side according to your need
WEIGHT PLATE
This stabilization system contains weights to balance the camera on stabilizer. Add or remove weights as per your camera's requirement..
QUICK RELEASE PLATE 
Quick Release Plate allows quick mounting and dismounting of camera. It features 1/4" standard screws.
IMAGE GALLERY
Share the challenges of working on location with any camera
The Supportive accessories are for demonstration purpose only.