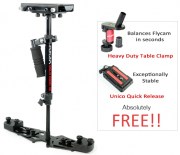 Flycam HD-Series represents it's most excellent and quality build Flycam DSLR Nano HD hand-held Stabilizer with advanced features. It lets your camera to float, always stabilized and isolated from undesirable jerks. Now you are free to move with your camera - panning, tilting, booming or running possible, without any worry. 


Flycam has earned the trust of millions of satisfied customers with its outstanding performance. Light weight construction and unique design of Flycam DSLR Nano HD camera stabilizer comprising congenial features will make you love challenges. Get your hands on this amazing piece of gear and enjoy unparalleled results from your first shoot!
INCLUDED
-  FLYCAM DSLR Nano HD Camera Hand held Steadycam 
-  FREE Heavy Duty Table Clamp
-  FREE Unico Quick Release
-   Storage Bag
SPECIFICATIONS
-  Construction - Aluminum black anodized stabilizer
-  Weighing capacity - 1.5kg/3.5lbs
-  Head Plate Dimensions - 6.8 x 3.9 inches 
-  Steadycamr Max Length - 55cm
-  Steadycam Min Length - 38cm
-  Camera Mounting Screw - 1/4"
-  Base Platform has 1/4" mounting hole for optional LCD Monitor attachment
-  Number of weight plates - 16 pcs
-  Weight of single weight plate – 90 grm
-  Stabilizer weight – 1.2 kg
SPECIFICATIONS OF UNICO QUICK RELEASE
-  Material: Polymide 66 
-  Color: Matt Black 
-  Dimension: 13.5*7.2*2cm 
-  Self Weight: 135g (0.30 lbs) 
-  Accepts both 1/4" or 3/8" mounting screw size 
FEATURES
-  Rugged and Lightweight handheld Steadycam..
-  Allows unrestricted Booming and 360 degree Panning.
-  Universal camera mount plate with micro balancing features.
-  Foam padded Handle Grip for fatigue free shooting.
-  Lightweight steadicam can be handled without any body support system. 
-  Perfect balance made easy by adjusting system weights.
-  Fully adjustable telescopic sled for perfect balance.
-  Designed for compact and low profile cameras weighing up to 1.5kg/3.5lbs.
-  Quick release for fast setup.
-  100% Satisfaction Guarantee
-  Precision bearings for smooth rotation.
 CAMERA BASE PLATE
The Camera Base Plate of the video stabilizer has 1/4" mounting slots (holes) to accommodate all variety of camera bases. You can slide your camera with base plate of DSLR steady cam on both the horizontal and vertical axes, achieved by means of thumbscrews and a movable camera base plate.
Ergonomic control knobs allow quick precise adjustment
BALANCING THE CAMERA
Counterweight disks on the base platform adjust the camera's vertical balance. Add or remove weights as required. It has 1/4" mounting hole for optional LCD Monitor attachment
Adjustable counter weights helps you fine-tune your camera's dynamic balance
TELESCOPIC POST
In order to adjust the camera's vertical balance you can adjust the length of telescoping Central Post, When balanced properly the camera floats, ready for you to move into action.
Telescopic feature allows you to adjust the height for shooting at higher angle
UNICO QUICK RELEASE (QR-5) - Absolutely FREE
Quick Release Adapter is capable of holding medium format DSLR cameras. The faster option for changing the camera makes it a best choice for professional photographers.
Unique design with precise lock adjustment
TABLE CLAMP - Absolutely FREE
It is impossible to balance your stabilizer without this table clamp. Free yourself from the burden of holding a stabilizer for long hours in between the shoots.
IMAGE GALLERY
Brilliance compressed to perfection