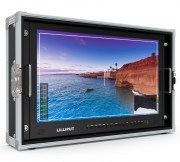 Lilliput BM230-4KS 23.8" 4K HDMI/SDI Broadcast Monitor with 3D LUTS
Lilliput BM230-4KS 23.8" 4K HDMI Carry-On Broadcast Monitor With SDI, HDR And 3D LUTS จอมอนิเตอร์ขนาด 23.8 นิ้ว ความละเอียด 4K รองรับสัญญาณ HDMI/SDI พร้อมเคสและแร็คในตัว  ฟังก์ชั่นด้านภาพครบครัน HDR, 3D-LUT, Peaking, False Color, Histogram, Exposure
การรับประกัน รับประกันตัวสินค้าที่เกิดข้อบกพร่องจากการผลิต ทั้งค่าแรงและค่าอะไหล่เป็นระยะเวลา 1 ปี สงวนสิทธิ์เฉพาะสินค้าที่ซื้อจาก ThaiDVShop ซึ่งได้รับแต่งตั้งให้เป็นตัวแทนจำหน่าย Lilliput ในประเทศไทยอย่างเป็นทางการเท่านั้น
Features
4K (3840*2160) Ultra-HD native resolution, 

23.8" perfect size for both suitcase

HDR, 3D-LUT & Color space, 

Peaking, False color & Time code,

High contrast: 1000:1,

178° Ultra high viewing angle,

Rich interfaces: 3G-SDI, HDMI 2.0, DVI, VGA, AV input,

Wide voltage: DC12-24V.
Specifications
DISPLAY

 Display Screen
  

23.8"  8bit

Physical Resolution
  3840×2160, 4K
Aspect Ratio
  16:9
Brightness
  300cd/m²
Contrast
  1000:1
Viewing Angle
  178°/178°(H/V)

INPUT

  3G-SDI
  1
  Wireless HDMI
  1 (optional)
  HDMI
  HDMI 2.0×1 (4K@60Hz) HDMI 1.4×3 (4K@30Hz)
  DVI
  1
  VGA
  1
  USB
  1 (3D-LUT)
  Audio
  2 (L/R)
  TALLY
  1
OUTPUT
 3G-SDI
  1

AUDIO

Speaker
  2
Ear Phone Slot
  1
POWER
Current
2.7A (15V)
Input Voltage
DC 12-24V (XLR)
Battery Plate
V-mount / Anton Bauer mount
Power Consumption
≤41W
ENVIRONMENT
Operating Temperature
0~60
Storage Temperature
-20~60
DIMENSION
Dimension(LWD)
  579×376.5×45mm / 666×417×173mm (with case)
Weight
  8.6kg / 17.1kg (with case)
SDI Format
SMPTE-125M
 480i(59.94)
SMPTE-274M
1080i(60/59.94/50)
1080p(30/29.97/25/24/24sF/23.98/23.98sF)
SMPTE-292M
1080p(30/29.97/25/24/24sF/23.98/23.98sF)
SMPTE-296M
720p(60/59.94/50/30/29/25/24/23.98)
720p(60/59.94/50)
SMPTE-372M
1080i(29.97/25/24/23.98)
1080p(60/59.94/50/30/29.97/25/24/23.98)
SMPTE-425M
1080p(60/59.94/50)
ITU-R BT.656
  576i(50)

HDMI Format

4K
  4096×2160  / 3840×2160 
Other
  1080p, 1080i, 720p, 720i, 480p ...
BM230-4KS :  23.8" Carry-on/Rackable 4K Broadcast Director Monitor. 
Accurate Color Calibration
A specific calibration to reproduce the colors of the image color space.
Color calibration supports the PRO/LTE version of LightSpace CMS by Light Illusion.

Adjustable Color Space
Native, Rec.709 and 3 User 
Defined are Optional for Color Space

                                          Without HDR                                                  With HDR 
                   Inaccurate exposure, reduced image detail,     Enjoy sharper images, greater detail and richer colors.
                                unsatisfactory viewing experience.                 Auto / HDR10 are for optional.
When HDR is activated, the display reproduces a greater dynamic range of luminosity, allowing lighter and darker details to be displayed more clearly. Effectively enhancing the overall picture quality.

3D LUT
Wider color gamut range to make precise color reproduction of Rec. 709 color space with built-in 3D LUT, featuring 3 user logs.

3D LUT LOAD
Supports loading the .cube file via USB flash disk.

Multiple Views Display
It supports quad views splitted from different input signals simultaneously, such as SDI, HDMI, DVI and VGA.

PEAKING FILTER (SDI)

ASPECT / CENTER / SAFETY MARKER

AUDIO LEVEL METER / HISTOGRAM
Wireless HDMI (optional)
With Wireless HDMI (WHDI) techn