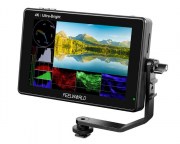 FEELWORLD LUT7 PRO 7" 3D LUT Touch Screen 4K HDMI Monitor
FEELWORLD LUT7 PRO 7 Inch 2200nits 3D LUT Touch Screen DSLR Camera Field Director AC Monitor F970 External Power and Install Kit 4K HDMI Input Output 1920X1200 IPS Panel
จอมอนิเตอร์ 7 นิ้ว ทัชสกรีน

หน้าจอ IPS มุมมองกว้าง 160 องศา ความละเอียด 1920x1200

ความสว่างสูง 2200nit, Contrast 1200:1

รองรับ 3D LUT, HDR

ฟังก์ชั่น Waveform, Vectorscope, Histogram, Focus Assist

ช่องหูฟังแบบสเตอริโอ

ช่องจ่ายไฟ DC 8V สำหรับกล้อง DSLR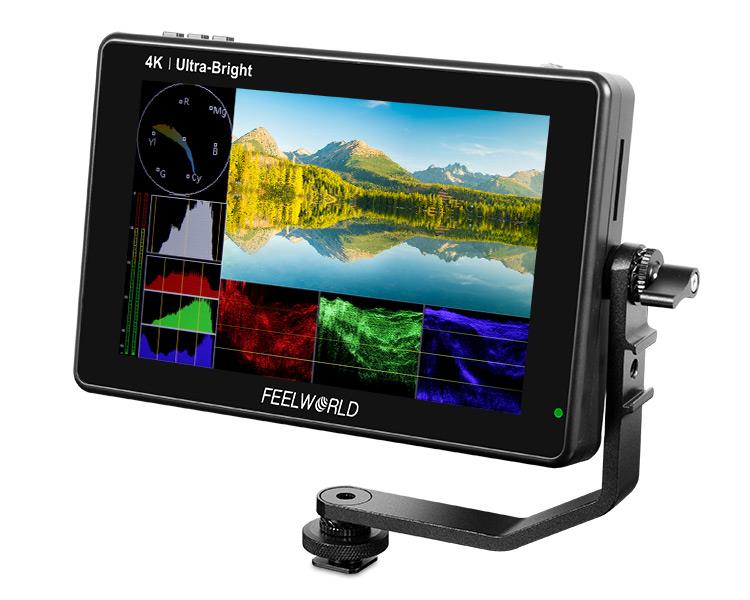 Features
- Sony F970 external install and power kit design can be used to install and supply power to external equipment, easy to install and disassemble, simplify your photography equipment.
- Support 3D LUT Log to Rec.709, user 3D LUT Upload
- Support Touch Menu
- High Resolution: Full HD 1920x1200, High Contrast: 1200:1
- 2200nit Daylight Viewable, Light Sensor for Auto Dimming
- 160° wide viewing angles IPS Panel
- Provides auxiliary power out; allowing shooters to power their cameras
- Support HDR monitoring
- With Waveform, Vectorscope, Histogram, Focus Assist, Monochrome etc. functions, can help you accurately exposure and focus every shot.
- Stereo Earphone output
- DC 8V power out to power your DSLR camera or mirrorless camera
Specifications
Display Spec.
 Model: LUT7 PRO
 Screen Size: 7" IPS
 Resolution: 1920x1200 pixels
 Pixel Pitch: 0.07875 (H) x 0.07875 (W) (mm)
 Aspect Ratio: 16:10
 Brightness: 2200cd/m² (Light Sensor)
 Contrast Ratio: 1200:1
 Backlight: LED
 Viewing Angle: 80°/80°(L/R) 80°/80°(U/D)
Input
 1 X HDMI HDMI
Output
 1 X HDMI HDMI
 1 X DC Barrel (5.5mm outer, 2.1mm inner) barrel output for powering cameras via camera specific adaptor.
Audio
 Audio: 3.5mm Stereo Headphone
HDMI Input/ Output Support Format
480i/576i/480p/576p
1080i (60/59.94/50)
720p (60/59.94/50/30/29.97/25/24/23.98)
1080p (60/59.94/50/30/29.97/25/24/23.98)
4K UHD 3840×2160p (30/29.97/25/24/23.98Hz), 4096×2160p (24Hz)
General
 Input Voltage: DC 7~24V
 Power Consumption: ≤16W
 Working Temperature: -20°C~50°C
 Storage Temperature: -30°C~60°C
 Install Way 1/4"-20 Thread Socket (Left, Right, Bottom)
 Unit Size: 190Lx126Hx27D (mm)
 Unit Weight: 450g
Note: When you turn off the monitor, you need to press the power button, and you can't pull out the power cable directly.
Advanced Features
* Support 3D LUT Log to Rec.709, user 3D LUT Upload
* Support Touch Menu
* Parade (RGB, YUV, Y)
* All Waves
* Vector
* RGB Histogram
* Brightness Histogram
* Embedded Audio
* Peaking Focus (red, green, blue, white, yellow five peaking colors optional; 1~10 peaking level adjustable)
* False Colors 
* Zebra Exposure (1%~100% adjustable)
* Check Field (Red, Green, Blue, Gray)
* Scan Mode (Under Scan, Over Scan)
* Anamorphic Mode (1.25x, 1.33x, 1.5x, 2.0x, 2.0x mag)
* Image Flip (H, V, H/V)
* Image Freeze
* Center Marker
* Safety Marker (70%, 80%, 90%, 16:9, 16:10, 4:3, 5:4, 1.85:1, 2.35:1)
* Ratio Marker (16:9, 16:10, 4:3, 1.85:1, 2.35:1)
* Marker Color (red, green, blue, white, black, yellow)
* Color Temperature Adjustment
* Nine Grid
* Zoom (100%~300%)
* Aspect Ratio 
* Pixel to Pixel