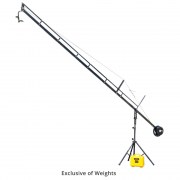 PROAIM 18ft Jib Arm with Jr. Pan Tilt Head and Power Pack
Proaim18ft Jib crane package is designed for professional filmmakers and videographers to add high impact in their video productions.. Hi-quality build rectangular re-enforced ribbed sections jib arm with intersecting joints make it robust and durable for lifelong. This film equipment also includes a heavy duty tripod that strongly holds the camera crane with stability.
Full 360-degree pan tilt head with joystick controller makes you to capture flawless shots. Additional LCD mounting arm and Lanc Zoom Controller helps to create unrestricted dynamic shots.
Exclusive of Weights
FEATURES
- High quality camera crane perfect for any demanding angle
- 5 section ribbed Camera Jib Arm for additional strength
- Fully adjustable metal wire system for superior stability
- Tilting movements can be achieved with the control handle
- Uses home style exercise weights with a one inch mounting hole
- Fixed camera angle when controlling handle 'pin locked'
- Breaks down into five easily transported sections
- 2 axis motorized Head with 12V high torque motors.
- 360 degree panning and tilting to capture numerous angles.
- Consistent run speed even at slowest setting
- Stable, Non slip feet Tripod stand.
- Portable and easy to carry.
- 100% Satisfaction Guarantee.
Included
- Proaim 18ft Camera Jib Arm
- Jib Stand
- Proaim Jr. Pan Tilt Head with Joystick Box
- LCD Monitor Arm
- FREE Proaim Lanc Zoom Controller (P-ZC-3DV)
- FREE Storage Bags
- Proaim Power Pack

HIGH CAPACITY CAMERA BASE PLATFORM
High-capacity Camera Base platform is built to exacting standards for a remarkably stable point. It allows direct camera mounting on jib. Superior design set this base platform apart from others.
RIBBED SECTION CAMERA CRANE ARM BODY FOR HIGH STRENGTH
Ribbed sections makes the jib arm stronger & durable. It supports cameras up to 15lbs without pan tilt Head and 10lbs when using with pan tilt head. The cable-tensioned design of the Proaim 18ft camera crane allows it to reach farther and higher while maintaining stability.
CENTRAL FORK WITH THRUST ROLLER BEARINGS TO HOUSE 
HEAVY AXIAL LOADS AND SHOCK LOADS
The fork provides you a maximum stability, smooth movements & jerk free shots. Thrust needle roller bearings are fitted with a form-stable cage to reliably guide and keep many needle rollers. These bearings enable to house heavy axial loads and shock loads.
LOCKING PINS FOR STABLE OR MOVING SHOTS
High strength SS locking pin is used at the pivot point, and is connected properly to prevent from ever being lost. 
- The control handle can be unlocked by releasing the locking pin to get moving shots.
- You can achieve fixed camera angles when controlling handle is pin locked.
CABLES AND COUPLINGS
Our modular cable system boosts camera crane stability and rigidity. The superior-quality cable tensioning system keeps the 18ft camera crane taut, rock solid and easy to control. The smooth-coated, corrosion resistant cables are easy to handle and will last a lifetime.
LCD MOUNTING PROVISION
The LCD Mounting Arm for LCD Monitor comes with this camera boom.
WEIGHT - CLOSERS (INCLUDED)
Stronger Hi-tensile weight closers help to achieve perfect balance.
MULTI ANGLE SHOTS
The camera base allows direct mounting of camera.
The Handle Bar allows easy tilts for multi- dimensional shots.
PROAIM JR. PAN TILT HEAD
Uniquely designed for DV, HDV and broadcast cameras weighing upto 6kg /13.2lbs or less. Our Motorized Proaim Junior Pan Tilt head offers 360 degree endless panning and tilting movements with reversal points.
- Runs on 12V DC power produced by the included A/C adapter or also accepts external 12V DC battery power through the included 3mtr long 4 pin XLR cable for outdoor shooting.
- You receive the Pan-Tilt Head with assembled wiring for Top and Bottom Motor.
- To install Power out to head (4 pin connector) and 12 volt DC power (4 pin XLR) in rear of joystick box.
JOYSTICK CONTROL
- The Joystick control system includes a 7.5 mt long operating cable and AC adapter.
- Operational from a flat surface in handheld mode or when attached to the bottom of the jib arm.
- Variable movement speed control adjusted by 'Speed' and 'Dead Spot' potentiometers on the control stick.
- As the name implies, 'Dead spot' control determines the centre point of the joystick control where no movement will occur.
Smooth, accurate, proportional joystick control for outstanding footages
SUPERB PROPORTIONAL CONTROL
-Joystick has proportional linear movement i.e. farther you move the joystick, the faster the head moves.
- Joystick is touch sensitive.
- Small movement – less speed.
- More movement – more speed.
HEAVY DUTY STAND
The Heavy duty Jib stand is constructed to carry heaviest of loads with an ease. The Sturdy base ensures strong connection between the camera crane and tripod stand, extra solid knobs for secure locking. The high strength stand acts as a supporter for all time stable shots.
PROAIM LANC ZOOM CONTROLLER (P-ZC-3DV)
The Proaim Zoom Control for DV Cameras is a universal controller for LANC and Panasonic Mini DV or HDV cameras. It works only with most Sony & Canon cameras with a 2.5mm mini-jack LANC input and Panasonic models with a 2.5mm mini-jack Cam Remote input.
IMAGE GALLERY
Smooth effortless motions to capture amazing shots
The Supportive accessories are for demonstration purpose only.