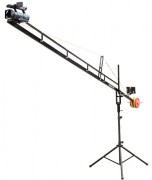 PROAIM 14ft. Jib Arm with Jib Stand
14ft Jib with Jib Stand!!
PROAIM welcomes you to the new and modernized era with its huge & sturdy 14ft Jib Arm with Jib Stand, a perfect filming solution to increase your production value. The Robust camera crane produces breathtaking footage through its huge set of features at a small price. Additionally, the ribbed sections provides super rigidity and higher strength to the jib arm, the sections fits smoothly & securely with one another, camera base platform attaches directly to camera, Lcd mounting option enables better viewing possibilities for operator. The counterweight bar accepts standard barbell type weights and maintains the accurate balance of jib crane. The Package includes a rock solid aluminum tripod stand for great support. Now it's not tough to achieve Hollywood film production value in your budget.
INCLUDED
-  Proaim 14ft Jib Arm
-  Centre Post 
-  Weight Shank with Closers 
-  Weight Closers 
-  Jib Stand 
-  LCD Mounting Arm 
-  
Free
 Tools and Tool Pouch/Wrap
-  Storage Bag
SPECIFICATIONS
 SPECIFICATIONS
  Weighing Capacity maximum
8kg (17.6 lbs)
 Material Used
CNC made Aluminum Powder Coated
 Jib Arm Shape
Rectangle
 Jib Arm Break downs into
4 Parts
 Length of Jib sections
3. 5ft each
 Camera Mount Bolt
¼"-20 and 3/8"-16
 Variable shooting lengths
12ft , 9ft
 Jib Section Jointers
Silver Aluminium
 Bearing at Center Fork
Pan Thrust bearing with washer made of stainless steel
 Camera Tilt Angles
Upto 270 degree
 Locking Pin
Stainless steel locking pin for stable or tilt camera angles
 Height Range from ground level
15 ft. when stand height adjusted at 5ft
 Length from tripod to Camera Mount
10.3ft
 Camera Mount plate
Rectangle( 10.5cm X 9cm )
 Camera Platform Levelling
By stress cable: Stress Cable made of metal with adjusting turn buckle hook
 Weight Holder Rod
Made of MS Nickel chrome,
Length : 355mm
Dia : 25mm
 Weight Closures
2pc. Made of MS Nickel chrome
 Horizontal Movement
Yes
 Vertical Movement
Yes
 Horizontal/Vertical Movement Lock
No
  LCD Mount Provision
Yes
  Weight
16 kg
 BALANCING CHART
 Add Counter Weights in the rear section of Jib according to Camera and Pan Tilt Head weight as per this chart :
The jib has a varying weight ratio depending on the length you have chosen.

The 14 jib arm itself balances at about 11kg. Just multiply the weight, of the additional items you will put on the end of the arm, by 2 and you will know how much weight to buy.

Buy a few extras in case you add other accessories. 


JIB STAND

-  Made of Aluminum Black anodized
-  Base spread - 32"- 48"
-  Height adjustment - 44"- 80"
-  Completely collapsed height - 46"
-  Outer Dia of top part of Stand - 50mm
-  Safety Pin for Secure Pole
-  Weight capacity of the stand is 200lbs (90kg)
DISCOVER THE HUGE SET OF FEATURES
HIGH CAPACITY CAMERA BASE PLATFORM
High-capacity Camera Base platform is built to exacting standards for a remarkably stable point. It allows direct camera mounting on jib. Superior design set this base platform apart from others.
RIBBED SECTION CAMERA CRANE ARM BODY FOR HIGH STRENGTH
Ribbed sections makes the jib arm stronger & durable. It supports cameras up to 15lbs without pan tilt Head and 10lbs when using with pan tilt head. The cable-tensioned design of the Proaim 14ft camera crane allows it to reach farther and higher while maintaining stability.
LOCKING PINS FOR STABLE OR MOVING SHOTS
High strength SS locking pin is used at the pivot point of the jib arm, and is connected properly to prevent from ever being lost. 
- The control handle can be unlocked by releasing the locking pin to get moving shots.
- You can achieve fixed camera angles when controlling handle is pin locked.
CENTRAL FORK WITH THRUST ROLLER BEARINGS TO HOUSE HEAVY AXIAL LOADS AND SHOCK LOADS
The fork provides you a maximum stability, smooth movements & jerk free shots. Thrust needle roller bearings are fitted with a form-stable cage to reliably guide and keep many needle rollers. These bearings enable to house heavy axial loads and shock loads.
LCD MOUNTING PROVISION
The LCD Mounting Arm for LCD Monitor comes with this camera crane.
MULTI ANGLE SHOTS
The camera base allows direct mounting of camera.
The Handle Bar allows easy tilts for multi- dimensional shots.
QUICK PAN TILT CONNECTIVITY
The Rock Solid jib is compatible with wider variety of modern pan tilts, that results in multi angle shots. 
The jib gets connected in minutes thereby saving production time.
HEAVY DUTY STAND
The Heavy duty stand is constructed to carry heaviest of loads with an ease. The Sturdy base ensures 
strong connection between the crane and stand, extra solid knobs for secure locking. 
The high strength stand acts as a supporter for all time stable shots.
CUSTOMIZE THE WAY YOU WANT !!
High Strength crane package increases your film production value like never before
ON LOCATION USE
Gets you sweeping crane shot that captures your audience's attention