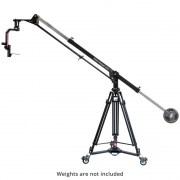 Proaim 10ft Wave-2 Plus Jib Crane Film Production Package
Best Travel Crane Package for Outdoor extremes & Indoor Studio Shots !!
PROAIM welcomes you to the new and modernized era with its Proaim 10' Wave-2 Plus Telescopic Jib Arm Crane with CST-100 Stand, Portable Dolly, SR. Pantilt head & Zoom Controller a portable filming solution to increase your production value. The Robust jib crane is specifically designed travel crane for indoor & outdoor video productions. Its telescopic arm feature adds flexibility to frame perfect shots in indoor and outdoor spaces. This video production package includes a rugged camera dolly for smooth, dynamic moving shots and rock solid aluminum tripod stand for immense support. Now you can create the visual effects and produce incredibly smooth floating camera crane shots that add value to your filming productions and bring a quick return on your investment.
Exclusive of Weights
Included
-  Proaim 10' Wave-2 Plus Camera Jib Arm
-   Proaim CST-100mm Bowl Tripod stand with Aluminum Spreader (CST-100-01)
-  Proaim Portable Dolly (P-PRT-D) (Revised on 08-Mar-2017)
-  Proaim Lanc Zoom Controller (P-ZC-3DV)
-  Proaim Sr Pan-Tilt Head (PT-SR)
-  12V Joystick Controller
-  75mm Bowl adapter
-  Storage Bag
Specifications

CAMERA JIB ARM
- Maximum load capacity 25kg/55lbs
- Minimum load capacity 15kg/33lbs
- Tripod mount of 100mm diameter
- Camera Mount Bowl accepts 100mm and 75mm head (with ring)
- Pan Radius :360 Degrees
- Jib Pan Lock: Yes (via pan friction knobs on U-Hub)
- Jib Tilt Lock: No
- Camera Plate Tilt Lock: Yes (via adjusting the camera head plate knob and ratchet knobs on jib arm)
100MM BOWL TRIPOD STAND
- Max length of tripod - 60 inch
- Minimum length of tripod - 34 inch
- Collapsible height - 36 inch
- Tripod tubes made of Aluminum
- Diameter of tripod tubes - 20mm and 14mm
- Weight of Tripod - 6.50kg
- Load capacity – 80kgs /176lbs
SPECIFICATIONS OF SPREADER
- Payload upto: 400kg / 880lb
- Spreader height: 50mm/2inch
- Build up radius Minimum: 41 - 66cm / 16 - 26inch
- Compatible with All Tripods with Twin Spiked Feet
- Product weight (without packing): 2.47kg / 5.44lb
PORTABLE DOLLY
- Weighing capacity-500kg.
- Weight of Product -10.7kg/23.5lb
- Hi-grade Aluminum tripod dolly for durability.
- Quality design and construction.
SR PAN-TILT HEAD
- Maximum Camera Package Load Capacity-7.5kg (16.5lbs)
- Pan, tilt, roll movement-360 degrees
- Slowest Speed-2 minutes
- Highest Speed-7 seconds
- Minimum height of head- 18.5 inches
- Maximum height of head-26 inches
- Weight- 7.2kg (15.8lbs)
ROBUST CAMERA HEAD MOUNT

The camera mount accepts 75mm fluid heads and has a 90 degree tilting angle to capture those 'off axis' shots. With solid aluminium construction and a grey finish it looks as professional as it operates.
PANNING KNOBS & BUILT IN BUBBLE LEVELER

The well-built pan knobs controls the panning of jib & Built in bubble leveler for fast accurate set up on uneven surfaces.
ASSEMBLY HUB

Provides the perfect drag for smooth panning of arm. It swivels for absorbing unwanted vibration or movement from the operator and keep the controls in Comforatble position in any jib attitude.
WEIGHT-CLOSERS

Stronger weight closers locks the weight in place thereby preventing them from coming out.


EXTENDIBLE DESIGN


This travel friendly jib extends backward as per operator convenience for better control.


Tripod Stand with Aluminum Spreader (Revised on 12-March-2020)
High Grade Tripod Stand
The Heavy duty stand is constructed to carry heaviest of loads with an ease. The Sturdy base ensures strong connection between the jib crane and tripod stand, extra solid knobs for secure locking.


PROAIM PORTABLE DOLLY


High Strength Dolly
The versatile 3-Leg Proaim Portable Camera Dolly turns your Tripod into camera tracking device and allows you to take silver screen-worthy movement with a max payload of 500kg/1100lb.


SR. PAN TILT HEAD


Its offers 360-degree panning and tilting ability while keeping your camera safe and secure. It is exceptionally engineered motorized head to support cameras up to 7.5kg/ 16.5lb with ease.
JOYSTICK CONTROLLER
Dead Spot
Dead Spot controls the sensitivity of the joystick on the pan tilt head. When turned on, there will be no motion on the pan tilt up to particular area on the joystick which prevents the unwanted movements and gives you a better control.
Speed Controller
Adjusts the speed of pan & tilt based on the requirement of shot.
Damping Control
Damping control prevents the head from stopping with a jerk enabling you to achieve smooth endings.
Pan tilt Direction
You can reverse the panning & tilting direction as & when required.
PROAIM LANC ZOOM CONTROLLER

Proaim's Lanc zoom controller is a universal controller for both LANC and Panasonic DV cameras, with a converter switch that allows for variable-zoom speed from slow to fast. The control zoom lever allows you to zoom out to wide-angle or zoom in to telephoto.