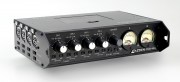 Azden FMX-42a 4-Channel Portable Mixer

FMX-42A
4-CHANNEL PORTABLE MIXER
Having 4 balanced XLR line/mic inputs with individual level and pan controls, the FMX-42a provides switchable (per channel) 48V phantom power and limiting, professional quality VU meters for accurate level setting, master level control, 1k tone generator, 2 balanced XLR outputs (line/mic switchable), stereo mini-jack output for DV cameras, 10-pin Camera Return, mini-jack Camera Return and a headphone monitor with level control.
The FMX-42a can be powered by either 6 internal "AA" batteries or an optional 12V DC external supply (Locking 4-Pin Hirose connector). A ballistic nylon carrying case is included.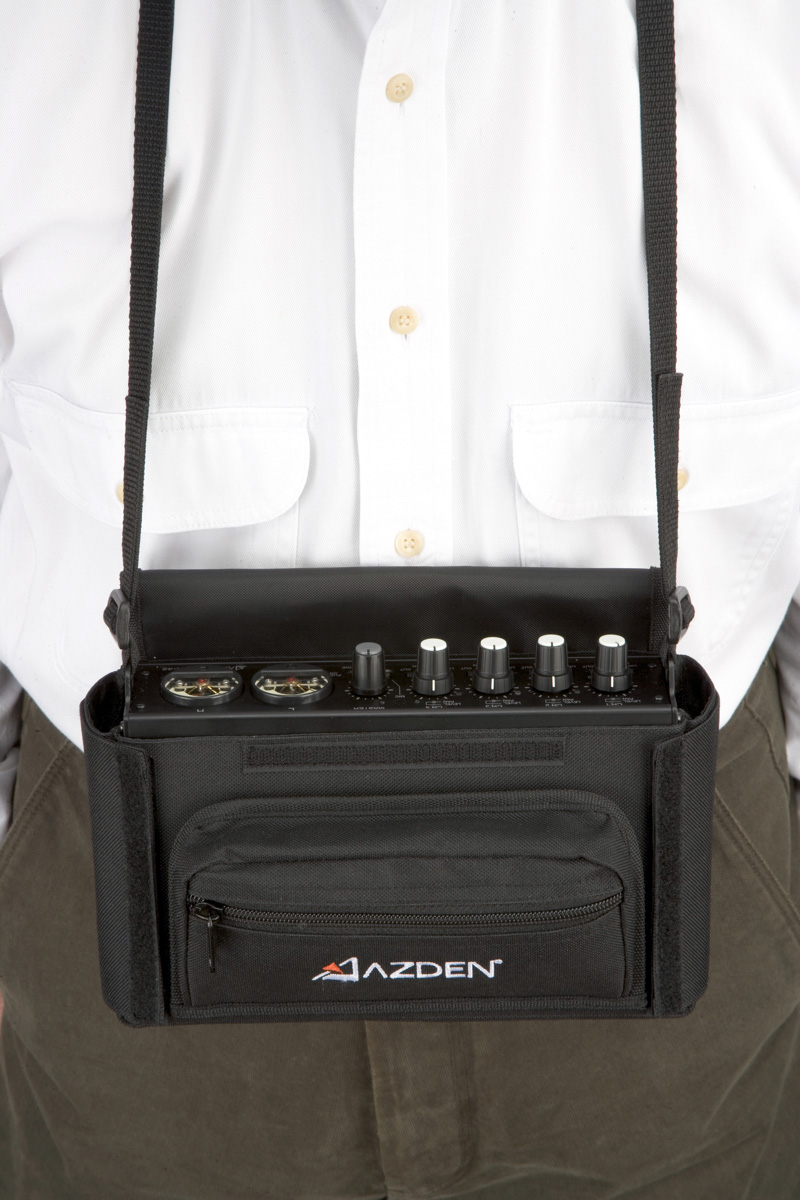 Azden FMX-42a Field Case
Carrying case with neck strap and fold-down covers for front panel, inputs and outputs (included).
Technical Specs:
GENERAL
Frequency ResponseBalanced and Unbalanced Output:
20 Hz – 30 kHz (+0 / -1.5 dB)
Monitor Out: 30 Hz – 30 kHz (+0 / -2 dB)
Signal-To-Noise
Balanced Output: -120 dBu
(A weighted, Input Equivalent Level)
T.H.D.
Balanced Output: <0.005% @ 1 kHz (@ LINE position +19 dBu output)
Phantom Power Voltage: 48V (± 4V)
Sample Tone Freq: 1 kHz
POWER
Battery Requirement: 6 Alkaline "AA"
Battery Runtime: Approx. 9 hours (Meter Illum. & Phantom Power OFF)
External Power: 12VDC @ 200 mA (10.5-17VDC – Locking 4-Pin Hirose Connector)
Current Drain:
164 mA (Meter Illum. & Phantom Power OFF – @ 9V)
192 mA (Meter Illum. OFF/Phantom Power ON w/1 mic@9V)
125mA (Meter Illum. & Phantom OFF @15V)
DIMENSIONS
56H x 220W x 160D mm (without protrusions)
2.25H x 9W x 6.5D inches (without protrusions)
Weight: 1350 g (w/o batteries) – 3 lb (w/o batteries)
INPUT
Balanced Input:
XLR 3-pin Female x 4 (CH1, 2, 3 and 4)
Level
Line Input – Standard : +4 dBu (electronically balanced)
- Maximum: > +26 dBu
Mic 1  – Standard: -38 dBu (electronically balanced)
- Maximum: +4 dBu
Impedance: 2k ohm
Mic 2  – Standard:-58 dBu (electronically balanced)
- Maximum: -15 dBu
Impedance: 2K ohm
High Pass Filter (HPF):
Return Inputs:
Hirose 10-pin Female for Hirose Part #RM15TD-10P
3.5mm (1/8″) Stereo Mini-jack
Input Level: -20 dBu – +19 dBu (unbalanced)