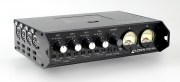 Azden FMX-42a 4-Channel Portable Mixer
Azden FMX-42a 4-Channel Microphone Field Mixer with 10-Pin Camera Return มิกเซอร์ภาคสนามสำหรับงานระดับมืออาชีพ
รองรับสัญญาณ XLR 4 แชนแนล พร้อม Phantom Power แยกอิสระ

แพนตำแหน่งซ้าย-ขวา แยกอิสระในแต่ช่องสัญญาณ

VU มิเตอร์ สำหรับเช็คระดับสัญญาณ

Camera Return มินิแจ็ค และ 10-pin

ฟังก์ชั่น Limiter ป้องกันเสียงแตก

ช่องสัญญาณเอาท์พุทแบบ XLR เลือกระดับสัญญาณ Mic / Line ได้

ช่องสัญญาณเอาท์พุทแบบสเตอริโอ มินิแจ็ค

ใช้ไฟจากแบต AA 6 ก้อน หรืออแดปเตอร์ 12V (อุปกรณ์เสริม)

แถมกระเป๋าผ้าสำหรับใช้งานภาคสนาม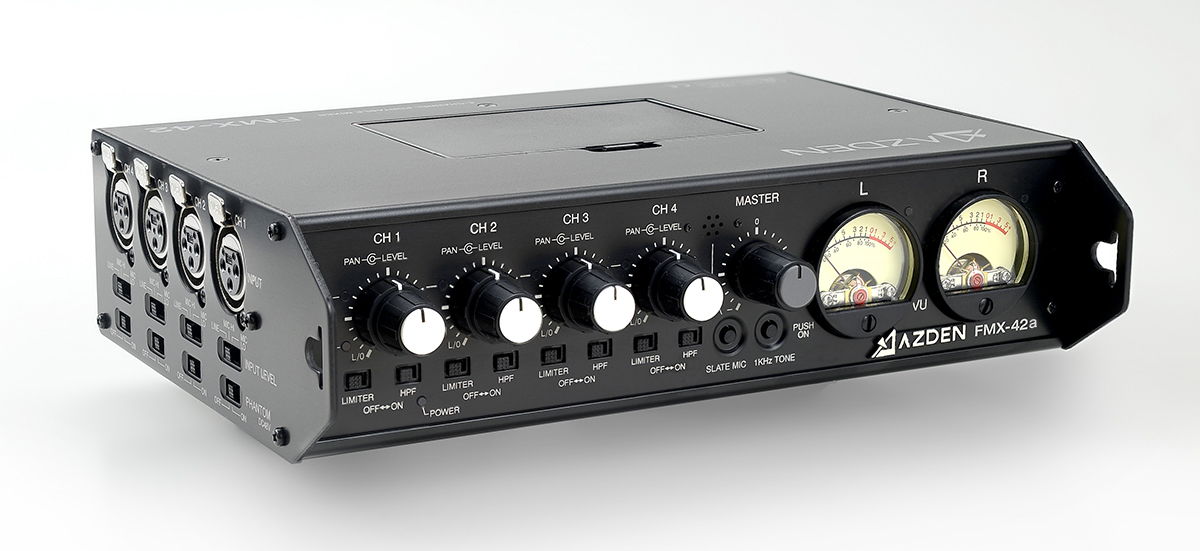 Features

4 XLR Inputs

Phantom Power

Input Limiter

2 Balanced Mic/Line XLR Outputs

Make Backup Recordings Using 1/8" Output

Monitor Camera Using 10-Pin or 1/8" Return
The Azden FMX-42a is a portable 4-channel audio mixer designed for professional and semi-professional field audio capturing. Equipped with both mini-jack and 10-pin camera returns, the FMX-42a also features 4 balanced 3-pin XLR microphone inputs with individually switched +48V phantom power. A pair of balanced XLR outputs provide line or mic level (switchable) signal to cameras, recorders, etc.
Additional features include a switchable input limiter to reduce the possibility of overload distortion, Left/Center/Right pan switches on all input channels, and enhanced circuitry for improved signal-to-noise ratio. The FMX-42a can be powered either by 6 AA batteries or an optional 12 VDC external power supply. A ballistic nylon carrying case is included.
The FMX-42a is an affordable field mixing solution for event videos, ENG/EFP applications, documentaries, and more.
Features:
4 balanced XLR line/mic inputs and pan controls
Switchable 48V phantom power and limiting
Professional-quality VU meters
2 balanced XLR outputs (line/mic switchable)
Stereo mini-jack output for DV cameras
6 x AA battery powered
Optional A/C adapter (sold separately)