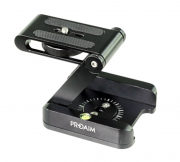 Proaim presenting its unique and compact camera mounting solution to frame your shots hassle free. Our 'Z' style, pocket folding camera platform with pro attachment mounting options can be used stand alone or mounted on a slider or tripod. The dual-articulated design allows you unlimited framing options with creative camera angle set up. The best buy price and pocket portable form factor make the P-Z-STD a great addition to any shooters kit.
FEATURES
-  High grade aluminum construction for long life usage 
-  Dual articulating design to capture every angle 
-  Instant pan and tilt adjustments
-  100% Satisfaction Guarantee 
Specifications
-  Material: CNC machined aluminum 
-  Product Weight: 0.4kg 
-  Load Bearing capacity: 3.5kg/7.7lb
-  Camera mounting screw 1/4"-20 and 3/8"-16 
-  Tripod Mounting: 3/8"-16 
-  Tilt: 240 degree
-  Pan: 340 degree
-  Sprit level –Induced 
-  Folded Size: 90mm x 85mm x 21.5mm 
STABILITY AT ITS BEST
Traditionally, tripods & sliders limit your ability to shoot low mode shoots but now the brilliant design of Z stand holder has given you that reach with more stability.
FOAM PACKING
Dimension:-LxWxH 13cmx11.5cmx7.2cm 
Weight(With packing):555gm/1.22lb
IMAGE GALLERY
The Supportive accessories are for demonstration purpose only.