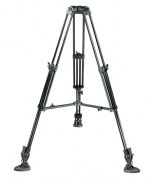 Proaim 100mm Bowl Head Tripod Stand with Spreader is very lightweight and highly portable in nature, Ideal for use with digital SLR, digital compact and video cameras. The Proaim Two-Stage 100mm Tripod is an extremely stable platform with an incredible height range of 53". The legs incorporate recessed horizontal lock levers that are easily accessible for safe and secure height adjustment. Lightweight and adjustable Spreader specifically designed to strengthen and add stability to the tripod. It is a perfect travel companion and ideal choice for capturing impeccable shots.
INCLUDED
-  100mm bowl Tripod Stand
-  3 x Proaim Rubber Tripod Shoes (Revised on 25-May-2016) 
-  Packing bag 
SPECIFICATIONS
-  Max height - 53"
-  Mini height - 31"
-  Load capacity – 80kgs /176lbs
-  Weight - 5.90 lbs
-  Leg Lock Type - Locking Knobs
-  Knobs are made up of high quality rubber
-  The inbuilt bowl made from pressure die casting
-  Strong Aluminum pipe legs 
-  Non Slip rubber feet.
FEATURES
-  2-Stage with quick action knobs for quick height adjustment.
-  Light weight and portable.
-  Single action required to fold up.
-  Sleek knob for tightening the telescopic extension
-  It also has fine rubber grip at its base for better stability.
-  Rubberized anti slip feet
-  Offers stable support for tripod 
-  Always remain flat upon the location surface 
-  100% satisfaction guarantee.
High quality support feet for accurate stability
IMAGE GALLERY
The Supportive accessories are for demonstration purpose only.