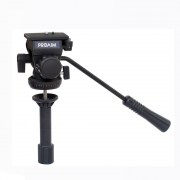 Proaim DSLR Camcorder 75mm Professional Fluid Tripod Head หัววิดีโอขนาดโบว์ 75 มม. รองรับกล้องน้ำหนัก 3 กก. สามารถติดบนโมโนพอด หรือรางสไลด์, ดอลลี่ได้
Proaim introduces all new fluid-pressure type tripod fluid head that provides the control needed to produce videos with smooth pans, controlled tilts and seamless transitions.  The built-in counterbalance system comprised of a sliding camera platform, optimizing tilt control.  The sturdy knob stiffens the tilt mechanism to help stop the camera tipping backwards or forwards when using a heavy lens.  The sturdy handle gives you more reach and lets you move your camera closer to the action without needing to lean over.  In addition to shooting videos, proaim prime tripod fluid head is perfect for use by birdwatchers and wildlife enthusiasts.
WHAT'S IN THE BOX 
- Proaim 75mm Fluid Head/Drag Head 
FEATURES
- Tripod head for today's DSLR video system.
- Provides 360 degree smooth panning.
- Works perfectly with lighter cameras up to 3kgs.
SPECIFICATONS
- Camera mounting screw : 1/4"- 20
- Tripod mounting screw : 3/8"-16
- Height : 105mm
- Weight : 0.890g
- Load capacity : 3kg