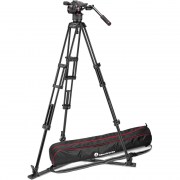 Manfrotto Nitrotech N8 Video Head & 546GB Pro Tripod with Ground-Level Spreader
Manfrotto Nitrotech N8 Video Head & 546GB Pro Tripod with Ground-Level Spreader ชุดขาตั้งกล้องวิดีโอ Manfrotto 546GB พร้อมหัวน้ำมัน Nitrotech N8 รับน้ำหนักได้ 8 กิโล ปรับ counter balance ได้แม่นยำด้วยระบบลูกสููบไนโตรเจน เพลทกล้องเซฟตี้ล็อก ปรับความหนืดแพนทิลท์ได้ ไฟบอกระดับน้ำ หัวโบวล์ 75 มม. ถอดแยกได้เพิ่มความยืดหยุ่นในการใช้งานร่วมกับขาตั้งฐานเรียบ หรือรางสไลด์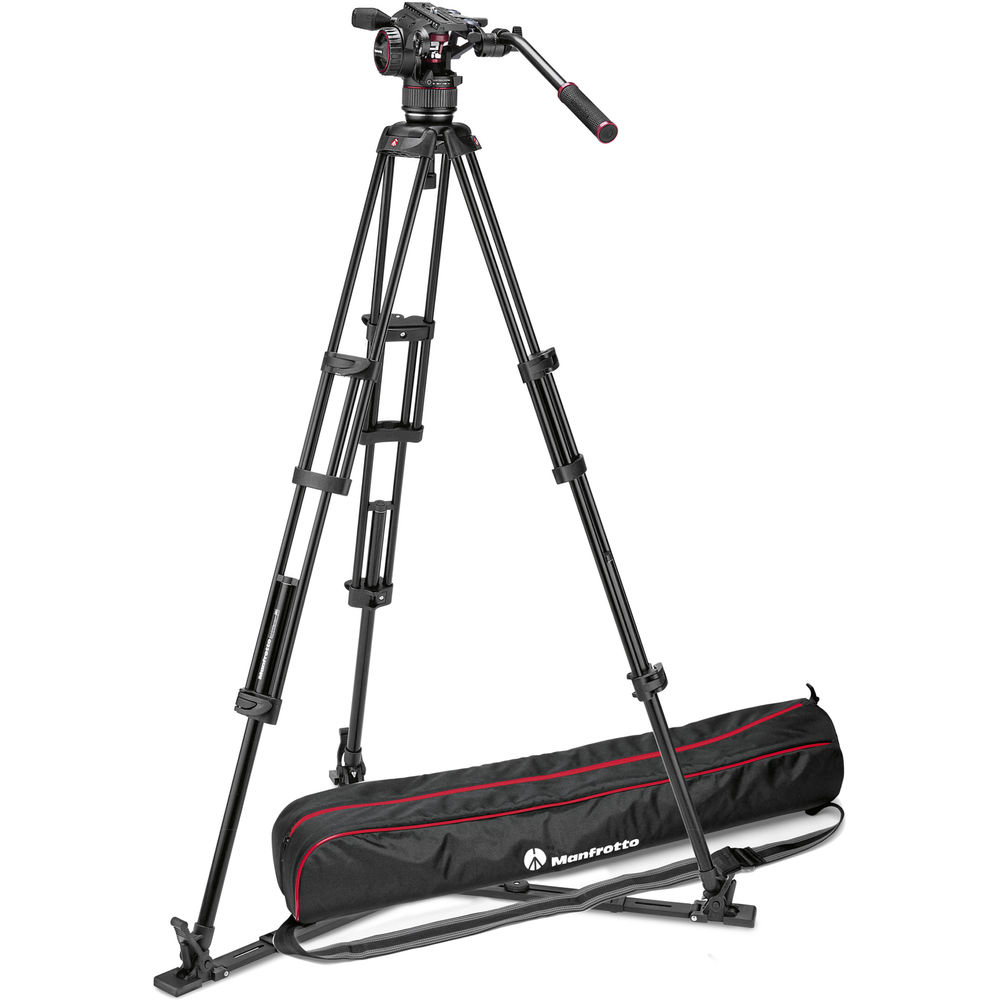 The Manfrotto Nitrotech N8 Video Head & 546GB Pro Tripod kit features an innovative counterbalance system based on a nitrogen piston mechanism. Unlike heads where the counterbalance clicks into place at set levels, the Nitrotech N8 features a continuously variable counterbalance control. With a maximum payload capacity of 17.6 pounds, the N8 is suitable for use with a variety of video cameras. Head features include a sliding camera plate with safety lock, fluid-drag pan and tilt functions, and an illuminated bubble level. This 75mm flat base head can be used with the included half ball adapter for maximum flexibility in mounting on the tripod, a slider, hi-hat, or other support.
The 546GB features two-stage aluminum legs, a 75mm bowl, and a ground-level spreader. These tripod legs can support up to 44 pounds, and have a height range of 12.8 to 62.4". Each leg is individually adjustable. The 546GB's spiked feet slip into the included ground-level spreader and are secured with a strong rubber latch. This allows you to use the tripod on a variety of surfaces, enabling setups on both smooth floors and uneven surfaces. The spreader can be detached for use on soft ground.
Manfrotto Nitrotech N8 Video Head Specs
Camera Plate
Camera Plate FeaturesSliding Balance Plate
Camera Mounting Screw1 x 1/4"-20 Male
1 x 3/8"-16 Male
Tripod Platform
Base Mount3/8"-16 Female
Pan & Tilt
Drag ControlContinuous
Drag TypeFluid
Vertical Tilt+90° to -70°
Panning Range360°
Physical
MaterialAluminum
Load Capacity17.6 lb / 8 kg
Counter BalanceContinuous
Center of Gravity2.2" / 55 mm
Bubble Level1 x Illuminated
Base Diameter2.95" / 75 mm
Dimensions5.8" / 14.7 cm
Weight4.8 lb / 2.2 kg
Packaging Info
Package Weight6.505 lb
Box Dimensions (LxWxH)14.55 x 9.6 x 8.05"
Manfrotto 546GB Pro Video Tripod With Ground-Level Spreader Specs
General
Head Mount Type75 mm Bowl
Load Capacity44 lb / 20 kg
Maximum Working Height62.4" / 158.5 cm
Minimum Working Height12.8" / 32.5 cm
Folded Length27.17" / 69 cm
MaterialsAluminum
Bubble LevelYes
Weight7.72 lb / 3.5 kg
Legs
Leg Lock TypeFlip Lock
Independent Leg SpreadNo
Leg Sections3
Leg Diameter1" / 25 mm
Feet FeaturesRubber, Removable
Center Column
Center Column FeaturesCenter Brace
Packaging Info
Package Weight9.8 lb
Box Dimensions (LxWxH)31 x 9 x 9"