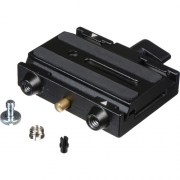 Manfrotto 577 Quick Release Adapter Plate
Manfrotto 577 ฐานติดเพลทกล้องแบบ 501PL และ 501PLONG เพื่ออำนวยความสะดวกไม่ต้องถอดเพลทออกจากตัวกล้องในการย้ายกล้องไปติดอุปกรณ์ต่างๆ เช่น ขาตั้งกล้อง, รางสไลด์, เครน, Mini Jib มาพร้อมเพลท 501PL น๊อตติดกล้อง 1/4" และอแดปเตอร์ 3/8" พร้อมพินป้องกันกล้องหมุน ช่องเก็บน๊อตด้านข้างขนาด 1/4" และ 3/8" ฐานล่างสามารถติดเข้ากับอุปกรณ์ได้ทั้งขนาด 1/4" และ 3/8"
The Manfrotto 577 Rapid Connect Adapter gives you the freedom to remove the camera from the head without detaching it from the plate. It includes the 501PL plate and is compatible with the 501PLONG camera plate as well. A 1/4"-20 screw and a 3/8"-16 bushing are included so you can use the plate with various cameras. Corresponding threaded holes on the side of the adapter allow you to store the screw that is not being used, so you can access it when you need it.
0.8" (20mm) of sliding travel within plate to optimally balance gear
One 3/8"-16, one M6, and one 1/4"-20 female bottom mounting threads
Plate has a 1/4"-20 mounting screw and a 3/8"-16 bushing, in addition to anti-twist video register pin
2-stage quick release system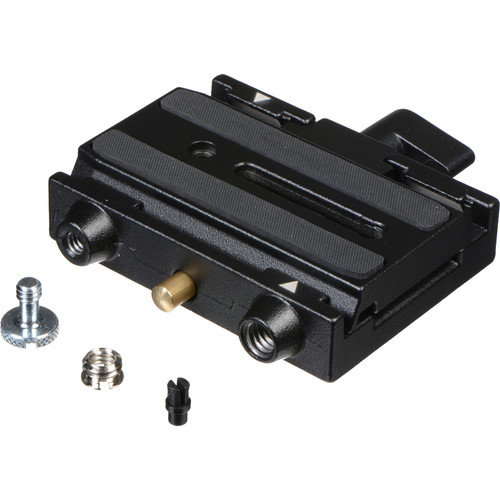 Specifications
attaches by.

1/4'' and 3/8'' screws attachment type

 

attachment

3/8'' female thread attachment type

attachment (top)

1/4'' female thread attachment type

Color

black color

 

material

aluminum

plate type

501PL

quick release

yes

 

secondary safety system

yes

 

sliding travel of plate

20 mm

weight

0.28 kg