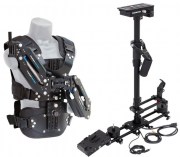 Flycam Zest Power Stabilizer (5-15kg) with Vista-II Arm & Vest
Flycam Zest, the first Electronic Power Video Stabilizer, is made to support today's HD broadcast cameras with payload capacity of 5-15kg / 11-33lb. The highly adaptive and open architecture of Flycam Zest allows for extreme system configuration and quickly accommodates industry-standard cameras and accessories. You can lift the camera up with maximum extendibility of telescopic post or invert it to skim the floor, and then seamlessly return to normal Steadycam-mode - with or without the optional Flycam Vista-II arm and vest.

The Flycam Vista-II Stabilizing Arm & Vest makes extended shooting nearly effortless, providing complete comfort and functionality for extended productions and long continuous shots. The Zest can now fly for hours — shooting entire weddings, sporting events, or theatrical performances — without undue fatigue.
Video is for demonstration only
Actual Product may vary due to Product Improvements 
FLYCAM ZEST POWER VIDEO STABILIZER

The high-grade CNC Aluminum constructed stabilizer includes adjustable camera stage; high-capacity wiring and different camera LCD ports ensuring a perfect workflow in future-proof, modular design. Stabilizer includes HDMI-In, SDI-In and DC-Out ports with power cables. It gives the operator the maximum flexibility to position both the monitor and gimbal where needed.
Adjustable Camera Platform

Balancing your camera system is critical to smooth floating shots. The camera stage features micro adjustable X-Y stage, via knurled knobs, you can fine tune camera balance. It has 2 bubble levellers for easy levelling.
Precise Gimbal

It is precisely balanced to allow ultra-smooth operation. It is ergonomically optimal and offers high-standard workflow efficiency. You can adjust its position as per your requirements and can easily lock it. The accurately rigid design is integrated with ultra-smooth bearings.
Telescopic Central Post

With a compact length of 62cm / 24" and extended length of 100cm / 39", the telescopic post design allows for maximum extendibility.
Robust Rod Support

The stabilizer utilizes industry-standard Ø15mm rods of 200mm & 450mm lengths. It includes 20 weight plates of 0.125Kg each. These counterweights help the operator balance the weight of camera on the steadycam.
Monitor Mount

The monitor clamp system can be attached on either 200mm or 450mm rods, as your need requires. The 200mm rod system has height adjustment capability and you can position it wherever you need on the central post. The unique pivot mechanism of monitor clamp enables 360° rotation and angle adjustment for more convenience.
HDMI Splitter

HDMI splitter with V-mount battery plate features multiple outputs. It supplies power to LCD monitors or other accessories. The Splitter uses high-class electronic components and easily fits 15mm rods.
FLYCAM VISTA II - CAMERA STABILIZER VEST

Flycam Vista Vest offers perfect fit, great comfort and unrestricted movements, all with a user-friendly design. The Vista Vest has seven segments that can be freely positioned in height and width, so that operators can adjust the shoulder, chest and hip segments perfectly to their individual physique. Flycam Vest provides support for the camera system, helping to prevent fatigue by transferring weight of camera to operator's hips. The vest is padded with extremely breathable material to provide comfort and adjustments can be made without tools and on the fly. The modular & adjustable vest fits easily on all body types.
Another innovative aspect of the vest is its quick-release buckles at shoulder, chest and hip belt. The operator can open the quick-release buckles during short breaks, which help to promote better blood circulation through the legs and enable the operator to breathe deeply. After refastening the quick-release buckles, the belts return to their exact former position.
FLYCAM VISTA II - CAMERA STABILIZER ARM

Flycam Vista Dual Springs Arm enables quick, precise and smooth operation. High-grade CNC aluminum constructed Vista Arm carries payload up to 15kg/33lb and optimizes performance throughout its lifting range. It is possible to adjust angle between arm and operator's body freely. With Vista Vest's Left/Right Arm mounting option; you can adapt to the preferred operating side in an extremely quick and safe manner. You can easily adjust the tension of this iso-elastic arm to counteract the weight of camera and steadycam sled. The high-performance bearings in the Vista arm make even the slowest camera moves ultra-smooth.
Flycam Vista Arm features no-tools design that can be adjusted with the camera and sled still attached, allowing the operator to quickly make adjustments on a take by take basis. Without having to un-mount the sled to make adjustments and then re-mount it to check the adjustment, just to repeat the process until you are satisfied, adjustments are finished quicker and become less tiring. This lowers down adjustment time and maximizes shooting time.
Image Gallery
The Supportive accessories are for demonstration purpose only.