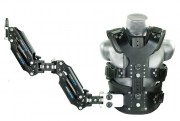 Flycam Vista-II Stabilizing Arm & Vest
Flycam unveils its new powerful combination of Vista-II Stabilizing Arm & Vest support to achieve superfine smooth moves in action. The dynamic Double section - vista arm design allows even beginners to learn its operation with ease. The arm has a manually adjustable tension steel spring which maintains the position of the stabilization system depending on the combined weight of camera and handheld stabilizer. The Vest is crafted from durable fabric with an ergonomic comfort design and a selectable position front arm mount ensures to ease operator stress over lengthy shoot days.
Flycam Vista II Steadycam Arm and Vest System is our long lasting support that lets you adapt various shooting styles and give wings to your creative options.
Video is for demonstration only
Actual Product may vary due to Product Improvements
 Included
Vista II Camera Stabilizer Arm
Vista DV Camera Stabilizer Vest
Bag Packing
Specifications
Dual Spring Arm
CNC Machined Aluminum Constructed Arm
Arm's Weight - 4 Kg/8.8lb
Design - Dual Section Arm
Blue Spring Payload - 2-6kg/4.4-13.2lb
Red Spring Payload - 6-15kg/13.2-33lb
Weight Carrying capacity - 15kg/33lb
Vest
Aluminium and fabric synthetic
Add the Material of vest
Vest's Weight - 2.87 Kg/6.3lb
Waist Size - 28" to 60"
COMFORTABLE VEST
The lightweight & foam padded Vest plays a significant role in eliminating the stress on arms due to holding the handheld stabilizer for long hours.
Universal Fit
The vest fits easily on all body types as it features height adjustment & Velcro straps. Height can be adjusted by simply pulling the pin given at chest plate and you can loosen or tighten the vest for a comfortable fit by adjusting the Velcro straps.
Sturdy Connector
The arm fits easily & securely into a solid aluminium connector that keeps the camera set up safe.
Comfortable & Easy to Wear
The vest is made of soft & comfortable fabric and is padded with specially chosen foam so that you can wear it during long hours of shooting. Push-fit buckles make it easy to wear.
SHOCK ABSORBING ARM
The Shock Absorbing Dual Spring Arm is what lets you capture completely smooth and gentle movements. The dual spring (Label it in the image) present in the arm isolates any body movement from the camera to capture shots with precise and elegant control. Dual spring arm also allows you to take wide range of motion
Changeable Spring 
You will get two springs with coloured caps. The blue one will be used for camera setup of 2-6kg/4.4-13.2lb & the red one will be for 6-15kg/13.2-33lb.
Tension Adjustable Knob 
Just turn the knob & you can easily adjust the tension of the spring depending upon the weight of the set up.
IMAGE GALLERY
Super Comfortable gadget for longer shooting hours
The Supportive accessories are for demonstration purpose only.