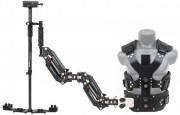 Flycam Vista-II Arm & Vest with Redking Stabilizer
Flycam has launched its unparalleled & precision constructed Vista-II Arm & Vest with Redking Video camera Steadicam for the professional video makers. The high strength stabilization system includes a Redking handheld stabilizer, shock absorbing arm and breathable vest. This robust stabilization system is designed to deliver smooth & professional shots with immense comfort. It is designed for heavy duty set ups while keeping customer's ease of control in mind.

It is thoughtfully designed system that lets you adapt various shooting styles and give wings to your creative options.
INCLUDED
-  Flycam Vista II Camera Stabilizer Arm
-  Flycam Vista II Camera Stabilizer Vest 
-  Redking Camera Handheld Video Stabilizer 
-  Bag Packing 
SPECIFICATIONS

REDKING STABILIZER
- Material: CNC Machined Aluminum constructed. 
- Engineered to support heavy cameras weighing upto 7 kg/15.4 lbs
- Minimum Load Capacity : 600gm / 1.32lb 
- X,Y Head Dimensions: 4.25" x 3.25" x 1.5" (with knobs 5.5" x 5.5" x 1.5") 
- Base Platform Dimensions: Shortest - 11.5" x 4", Longest - 15" x 4" 
- Central Support Post: 1" diameter 
- Weight: 1.700 kg (3.74lb) without Counter Weight Plates. 
- Each Custom Counter Weight Plate averages .110 g (2.42 lb). 
- 16 Counter Weight Plates = 3.264 pounds (1.48 kg.)
- Camera Mounting Plate has 1/4"- 20 mounting screw.
- Base Platform has 1/4" mounting hole for optional LCD Monitor attachment. 
- Telescopic Post extends from 53cm to a full rise height of 81cm 
DUAL SPRING ARM
- CNC Machined Aluminum Constructed Arm
- Arm's Weight - 4 Kg/8.8lb
- Design - Dual Section Arm
- Blue Spring Payload - 2-6kg/4.4-13.2lb
- Red Spring Payload - 6-15kg/13.2-33lb
- Weight Carrying capacity - 15kg/33lb
VEST
- Aluminium and fabric synthetic
- Add the Material of vest
- Vest's Weight - 2.87 Kg/6.3lb
- Waist Size - 28" to 60"
FEATURES

-  CNC-machined Aluminum construction.
-  It can bear modern DSLR DV/HDV Camera weight up to 20lbs.
-  Adjustable chest plate to fit many various body sizes and types.
-  It can be operated efficiently either right or left handed.
-  This dual articulating arm provides a smooth and quiet operation. 
-  Easy to setup 
Video is for demonstration only
Actual Product may vary due to Product Improvements
REDKING STABILIZER 

The professional and rugged Redking handheld video stabilizer; designed for film and video cameras. Redking works so well with this arm & vest and allows you to shoot incredibly smooth and graceful shots even while going to extremes like running up and down stairs or traveling over rugged terrain.
FLYCAM VISTA II - CAMERA STABILIZER VEST

High- quality build vest with functionality is specially designed with highly soft padded fabric that supports camera platform in a comfortable manner allowing extended periods of use and the elimination of arm strain common to regular handheld camera users. The merit of a comfortable torso hugging chest pad anchored with an efficient 4 -point buckle system is a plus. Spend a few minutes to custom fit your new camera support vest the first time you wear it and from then on it's a fit and forget configuration. Here's a recap of what you get.
FLYCAM VISTA II - CAMERA STABILIZER ARM 

The lightweight, dynamic Double section - vista arm is designed to bear cameras weight upto 20lbs. The 16mm connecting pin for flycam attachment securely joins with handheld stabilizer so you can shoot the video for longer times. The arm includes a manually adjustable tension steel springs and spring elasticity adjustable knob that allows you to adjust the amount of tension of spring so you can set the position of comfort arm ie high, medium and low mode as per your requirement. The Solid Arm vest connector pin joins the arm vest together with proper grip. This dual articulating arm provides a smooth and quiet operation for steadycam. It can be operated efficiently either right or left handed.
Think of Possibilities…Think of Vista with Redking
HIGH STRENGTH PRECISION CAMERA STABILIZATION SYSTEM

The Robust Stabilization system allows mounting of heavy duty set ups. It also features an lcd mounting option at bottom for better user experience. The dual articulating arm ensures stable & smooth operation.
EASE OF USE/CONTROL

This high strength Camera stabilization is designed while keeping customer's ease of control in mind. With the help of single stabilization arm, system can be easily & smoothly controlled.
COMFORTABLE JACKET 

The Quality constructed jacket ensures immense comfort to operator for long hours of operation. It also allows operator to do adjustments using one hand only. The universal fit accomodates all body sizes.
INVERTED OPERTAION

This Professional Camera Stabilizater not only promises comfort, ease of control & Fast set up but also provides different mounting options. It supports Inverted angle operation for low angle shots.
The Supportive accessories are for demonstration purpose only.