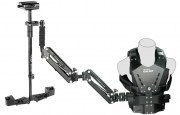 Flycam Galaxy Arm & Vest with Redking
Flycam introduces its professional and rugged Redking handheld video stabilizer with Galaxy Arm and Vest; designed for film and video cameras. Redking works so well that it allows you to shoot incredibly smooth and graceful shots even while going to extremes like running up and down stairs or traveling over rugged terrain. And when it comes to normal shooting, like walking or moving the camera slowly around someone, the results are equally magical. The well designed arm and vest with Redking helps you to have fatigue free shooting experience.
Specifications
-  Material: CNC Machined Aluminum constructed
-  Engineered to support heavy cameras weighing upto 7 kg/15.4 lbs
-  Minimum Load Capacity : 600g 
-  Stabilizer Arm weight - 2.3 kg/5lbs 
-  Stabilizer Arm built from Solid Aluminum Stock 
-  Waist size: 28" to 60"
-  Camera Support Vest weight - 2.1 kg/5lbs 
-  X,Y Head Dimensions: 4.25" x 3.25" x 1.5" (with knobs 5.5" x 5.5" x 1.5")
-  Base Platform Dimensions: Shortest - 11.5" x 4", Longest - 15" x 4"
-  Central Support Post: 1" diameter
-  Weight: 1.700 kg (3.74lb) without Counter Weight Plates.
-  Each Custom Counter Weight Plate averages .110 g (2.42 lb).
-  16 Counter Weight Plates = 3.264 pounds (1.48 kg.).
-  Camera Mounting Plate has 1/4" mounting screw.
-  Base Platform has 1/4" mounting hole for optional LCD Monitor attachment.
-  Telescopic Post extends from 53cm to a full rise height of 81cm
-  No-tools, positionable knurled gimbal (positive twist lock) 
Professionally Constructed Stabilizer
Redking Stabilizer is completely CNC machined which adds value to its precisely designed parts. Overall aluminium construction makes it quite robust yet lightweight. It is a durable gear that will be successfully operated for years to come. It is highly compatible with all the cameras weighing up to 7kg/15lb.
Camera Platform with Dovetail Quick Release
The sturdy camera platform has a sliding dovetail quick release plate that enables you to mount or dismount the camera setup easily & quickly. The knobs help to achieve X&Y adjustmentsof the camera platform for horizontal balance. Moreover, the markings on platform offer quick & precise adjustments.
Adjustable 3-Axis Gimbal with Foam Cushioned Handle
Precisely constructed three-axis adjustable gimbal has ball bearings which provide rotational camera control with easy 'on axis' movements. The no-tools, knurled gimbal can be positioned on the marking scale to adjust the system's vertical balance. It also allows low mode operation. The foam cushioned handle that is attached with the gimbal makes handheld shooting comfortable.
Dynamic Base Platform
The Base Platform contains weight discs that help in maintaining dynamic balance of the stabilizer. Moreover, the base platform can manually be expanded or contracted according to operator's convenience to achieve perfect balance. 
Base Platform has 1/4"-20 mounting hole for optional LCD Monitor attachment.
Comfortable Vest
The lightweight & foam padded Vest plays a significant role in eliminating the stress on arms due to holding the handheld stabilizer for long hours.
Universal Fit
The vest fits easily on all body types as it features height adjustment & Velcro straps.
Sturdy Connector
The arm fits easily & securely into a solid aluminium connector that keeps the camera set up safe.
Comfortable & Easy to Wear
Soft & comfortable vest comes with push-fit buckles so that you can wear it during long hours of shooting.
Shock Absorbing Arm
The Shock Absorbing Comfort Arm is what lets you capture completely smooth and gentle movements. The dual spring present in the arm isolates any body movement from the camera to capture shots with precise and elegant control. Dual spring arm also allows you to take wide range of motion.
Changeable Spring
You will get two springs with coloured caps. 
Blue Spring: 1-5kg / 2.2-11lb
Red Spring: 5-10kg / 11-22lb
Spring Tension Adjustment Knob
Just turn the knob & you can easily adjust the tension of the spring depending upon the weight of the set up.
Telescopic Post with Marking Scale
By changing the length of the no-tools telescopic Central Post, you adjust the camera's vertical balance. For operator's convenience, the telescopic post has marking scale for adjustable three-axis gimbal. The telescopic post features a safety knob to prevent the base from detaching from the Central Post.
IMAGE GALLERY