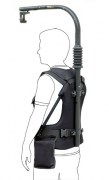 Flycam Flowline Professional Ergonomic Camera Support
Flycam introduces - a Professional Ergonomic Stabilizing Camera Support which ensures comfort & lets you shoot 24x7. Professional video stabilizer system is designed to reduce the static load on the neck and shoulder muscles and distributes it to your torso. Its Body Vest is made with soft padded breathable fabric which provides immense comfort. The vest comes with height adjustable feature which enables the operator to adjust the height according to his requirement. If more adjustments are required, you can also change the position of the 20 mm tube inside the support arm at its base under the bellows. Another great feature of the vest is that it has flexible belt system & adjustable vest rods on sides which allow easy fit for all body types.
The body-mounted support system comes with a powerful suspension rope which is attached to your camera with a rubber-grip hook. The rope enables you to take the ground level shots. It also delivers the hands-free operation giving absolute rest to the hands while retaining stability and control. Flowline is properly packed in a protective bag pack to ensure the safety of the product & for travel convenience.
A modified vest has been designed with a wider front, fitting around the waist and over the hips. This new construction provides superior lower back support that allows the cameraman to carry weights further away from the body.
So, make the Flowline; a camera/camcorder stabilizer as your best partner for capturing all broadcasts, sporting events, documentaries, and numerous other professional applications.
IMAGE GALLERY
ON LOCATION
Unparalleled state-of-the-art gizmo perfected to meet professional demands
The Supporting accessories are for demonstration purpose.
SPECIFICATIONS

 

Flowline 600N

Flowline 750N

Product Weight: without packing

Complete 4kg (9lb)

Complete 4kg (9lb)

 Height:

Mounted: 100 cm (39'')
Folded: 60 cm (23.6'')

Mounted: 100 cm (39'')
Folded: 60 cm (23.6'')

 Capacity:

12 - 15 kg (26.4 - 33 lb)

15 - 19 kg (33 - 41.9 lb)

 Suspension line length:

107 cm (42'') when fully stretched

107 cm (42'') when fully stretched

 Top Bar Length:

Including extension : 470mm
Excluding extension : 340mm

Including extension : 470mm
Excluding extension : 340mm

 Min. waist hip strap length:

87 cm (34''))

87 cm (34''))

 Max. waist hip strap length:

142 cm (56'')

142 cm (56'')

 Extension:

13 cm (5'')

13 cm (5'')