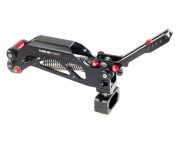 Flycam Flowline Placid Two Axis Spring Arm
With the marvellous success of Flycam Flowline series, Flycam feels proud to introduce a two axis spring arm - Flycam Flowline Placid that controls vibrations on the vertical axis or side to side axis which come from walking or running. It attaches at the end of the Flycam Flowline top arm and allows you to go from high to low mode and to control the vertical and side to side stabilization simultaneously. 

The Placid arm can take rigs between 5-20kg / 11-44lb and you can easily fine tune the spring tension. This arm allows you to get the camera rig at the right distance from your body. Furthermore, you can experience the wide range of professional shots with extreme smoothness.
 Specifications
-  Height: 205mm
-  Width: 395 mm
-  Depth: 65mm 
-  Material : Aluminum, Carbon Steel, Stainless Steel, EPDM rubber
-  Max Load: 20Kg / 44lb 
-  Min Load: 5kg/ 11lb
-  Weight of product: 1.80Kg / 3.96lb
-  Foam Packing Dimension: LxWxH : 42cmx20.5cmx12cm
-  Weight(With packing):2.40kg 
Spring Tensioner
You can change the tension spring according to weight of your camera setup whether it is low, medium or heavy one as mentioned in the picture.
Compatible with our complete range of Flowlines.
Flycam Flowline 300N, weighing capacity : 5 - 8 kg (11 - 17.6 lb)
Flycam Flowline 400N, weighing capacity : 8 - 10 kg (17.6 - 22 lb)
Flycam Flowline 500N, weighing capacity : 10 - 12 kg (22 - 26.4 lb)
Flycam Flowline 600N, weighing capacity : 12 - 15 kg (26.4 - 33 lb)
Flycam Flowline 750N, weighing capacity : 15 - 19 kg (33 - 41.9 lb)
Flycam Flowline Steady Camera (FLCM-FLN), weighing capacity : 7.5 kg(16.53 lb)
IMAGE GALLERY
Placid is a Must Have Product for Flowline!!
Works great with the gimbal rigs like Free fly Mövi or most other gimbal rigs.
The Supportive accessories are for demonstration purpose only.