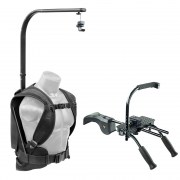 Flycam Flowline Steady Camera Support upto 7.5 kg
FLYCAM Flowline อุปกรณ์เสริมสำหรับชุดริก หรือ 3-Axis Gimbal เพื่อช่วยรับน้ำหนัก และลดการสั่นไหวของกล้อง ทำให้ภาพที่ได้มีความนุ่มนวลยิ่งขึ้น ในขณะที่ยังคงความคล่องตัวแบบ handheld รองรับน้ำหนักกล้อง 2.5 ถึง 7.5 กก. สามารถปรับขนาดชุดให้เข้ากับสรีระได้ พร้อมกระเป๋าในตัว แถมฟรีชุดริกติดกล้อง
Now shoot either with a DSLR, Red One / Epic, Blackmagic, Arri Alexa or any other bulky camera set up, all you need to focus upon is your subject! The Flycam Flowline is here to support & carry the heavy necessities. Flowline is a remarkable gear that has already shaken the film industry with its performance. Its outstanding functionality will make you addicted to it.
It relieves you from all kinds of strain usually faced on day long shoots. Its high quality fabric & built ensures smooth functioning & lifetime investment. Specifically designed for carrying cameras (3kg to 7.5 kg), it provides you incredible freedom of movement. Adjustable support bar & rope extension offers perfect balance & angle for that picture-perfect, money shot. This must have equipment allows you to capture the most beautiful moves for your all occasions.
FEATURES
- Perfect partner for all DV/HDV/DSLR film & video cameras.
- Designed to provide flexible and stable support with a touch of ease.
- Relieves your shoulders and back from strain.
- Adjustable Rope Resistance.
- Flexible Belt System.
- Comfortable for longer periods of handheld shoots.
- Adjustable Body Vest Designed with soft padded breathable fabric.
- Attaches to Camera by Sturdy-Grip Hook.
- Comes in a protective backpack for easy transportation.
- 100% Quality Assurance.
Specifications
-  Flowline Weight: Complete 3.6 kg (8 lb)
-  Shoulder Mount Rig Weight : 1.8kg (3.96 lb)
-   Height: Mounted: 100 cm (39.4 in) Folded: 60 cm (23.6 in)
-  Minimum Load Capacity:3 kg(6.6 lb)
-  Maximum Load Capacity:7.5 kg(16.53 lb)
-   Suspension line length (Rope): 152.5 cm (60 in.) when fully stretched
-   Top Bar Length: 560mm
-   Min. waist hip strap length: 81 cm (32 in)
-   Max. waist hip strap length: 125 cm (49 in)
Included
-  FLYCAM Flowline Steady Camera Support
-  ABSOLUTELY FREE FLYCAM Flowline Shoulder Mount rig
Video is for demonstration only
Actual Product may vary due to Product Improvements
FLYCAM FLOWLINE SHOULDER MOUNT RIG
The fully functional shoulder mount increases the capability of Flycam Flowline with more mounting choices. Dual handles and shoulder pad allows for greater operational comfort and freedom of control.
ADD-ON ACCESSORY
Proaim 2-Axis Anti-Vibration Equalizer

Designed to use with Flycam Flowline connected to a DJI Ronin/Freefly MōVI Gimbal

Turns Your Motorized Gimbal into a Body-Worn Stabilizer for Longer Durations of Stable Handheld Video Shooting

Provides Ultra-Smooth Workflow with Total Freedom!
The Supportive accessories are for demonstration purpose only.