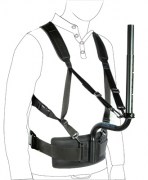 The Flycam Body-Pod support is a lightweight camera stabilizer support system which lets you shoot in cushioned comfort for long periods of time. By taking the weight of the steady cam off your hands and arms and placing it onto your waist and shoulders, this comfort fit body-pod support eliminates stress and torque common to handheld stabilizer units especially in long production days. It allows you to quickly glide the handle of either the Flycam 3000, 5000, Nano or DSLR Nano. This body support system adds stability, protection for equipment and makes all professional shots natural.
INCLUDED
-  Flycam Body-Pod
-  5.5" Extension 
SPECIFICATIONS
-  Straps with hooks - 133cm
-  Waist Belt with Buckles - 127cm
-  Handle Adapter dia - 18.5 mm 
FEATURES
- DYNAMIC steadycam support system turns your FLYCAM into a mini stabilizer in minutes.
- Takes the weight of the stabilizer off your hands and arms and distributes across your body. 
- Over length straps and belt for universal fit.
- Industrial quality nylon webbing with sturdy metal buckles.
- 7" & 9" risers for vertical height adjustment.
- Amateur, prosumer and professional certified.
- Compatible with Handheld Stabilizers ie. Flycam 5000, Flycam 3000, Flycam C5, HD-3000, HD-5000, Nano and DSLR Nano.
- 100% Satisfaction Guarantee
BODY POD COMPONENTS
Smart support system reduces stress
IMAGE GALLERY
The Supportive accessories are for demonstration purpose only.