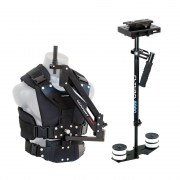 Flycam 5000 with Comfort Arm Vest
We understand that maintaining the stability of camera during long hours of shooting is a challenge which usually results in shaky footages. This camera shake draws audiences' attention to the camera, which breaks the illusion of reality. Feather like gentle movements can't be achieved by holding the camera in your hands. Flycam Comfort kit being a stabilization system lets you achieve those gentle movements by isolating your body's motion from your camera. Moreover, it takes the stress off your arms & distributes it equally on your body.
Complimentary!
Video is for demonstration only
Actual Product may vary due to Product Improvements
Flycam 5000 Handheld Stabilizer 

A solid aluminum construction with precise balancing & a telescopic post, this stabilizer ensures super quick balancing, saving your production time. It helps you capture fully stable & ultra smooth shots under any shooting scenarios.
Camera Platform with X & Y Adjustments

The X & Y movement on the camera platform helps to adjust the horizontal balance quickly. The camera plate has 1/4"-20 and 3/8"-16 slots to accommodate all variety of cameras up to 5kg/11lbs.
Stabilizer Gimbal with Foam Cushioned Handle

Comfortable foam cushioned handle attached with precise 3-axis gimbal that has ball bearing which provides rotational camera control with easy 'on axis' movement. The handgrip swivels left and right from the bolt. Angle bracket enables grip to move up and down for easy vertical movement.
Counter Weights

This stabilizer system contains 16 weight discs that help in maintaining the dynamic balance of the stabilizer.
Telescoping Central Post

By changing the length of the no-tools telescoping Central Post, you adjust the camera's vertical balance.
Comfortable Vest

The lightweight & foam padded Vest plays a significant role in eliminating the stress on arms due to holding the handheld stabilizer for long hours.
Universal Fit 
The vest fits easily on all body types as it features height adjustment & Velcro straps
Sturdy Connector
The arm fits easily & securely into a solid aluminum connector that keeps the camera set up safe.
Comfortable & Easy to wear
The soft & comfortable vest comes with push-fit buckles so that you can wear it during long hours of shooting.
Shock Absorbing Arm

The Shock Absorbing Comfort Arm is what lets you capture completely smooth and gentle movements. The spring present in the arm isolates any body movement from the camera to capture shots with precise and elegant control. The spring arm also allows you to take a wide range of motion.
Free Accessories!
Arm Brace

Arm Brace not only provides the operator with cushioned comfort but also takes the load off your wrist & distributes it on the arm.
Table Clamp

Table clamp helps you to quickly balance your handheld stabilizer and also keeps you free from the burden of holding a stabilizer for long hours in between the shoots
IMAGE GALLERY

Versatile and ultra-smooth Steadycam for flawless shots
The Supportive accessories are for demonstration purpose only.