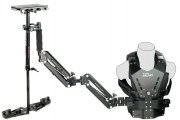 Flycam Galaxy Stabilizer Arm & Vest with HD-3000
INCLUDED
-  Flycam Galaxy Stabilizer Vest
-  Flycam Galaxy Stabilizer Arm
-  Flycam HD-3000 Steadycam System (Revised on 6-Oct-2015)
-  Metal Pro Quick Release
-  Table Clamp
SPECIFICATIONS
-  We provide two types of springs: 
    - Blue for 1kg to 5kg
    - Red for 5kg to 10kg
-  Construction: Aluminum 
-  Stabilizer Arm weight - 2.3 kg/5lbs
-  Steadycam weight : 2.860 kg/6.3lbs
-  Stabilizer Vest weight - 2.1 kg/5lbs 
-  Waist size: 28" to 60"
-  Gimbal: CNC machined Double bearing 
-  Head Plate Dimensions : 7.5 x 4.2 inches 
-  Counter-weight disks : 8pcs 
-  Camera Plate Holes: 1/4"-20 & 3/8"-16 mounting holes
-  Weighing capacity of stabilizer : 3.5kg / 8lbs 
-  Weighing capacity of Arm : 10kg
FEATURES
-  Fully adjustable Universal Head for precision balance.
-  Quick Release Plate for easy camera mount and removal.
-  Removes undesirable camera movement.
-  Dual spring loaded stabilizer arm.
-  Ergonomic Comfort Stabilizer Vest.
-  Superior performance.
-  High build quality Stabilization System . 
-  Fast and easy assembly. 
-  Sophisticated gimbal bearing mechanism prevents angular deviation when shooting.
FLYCAM GALAXY VEST
The Flycam Galaxy stabilizer vest is crafted from durable fabric with an ergonomic comfort design and a selectable position front arm mount sure to ease operator stress over lengthy shoot days. Foam padded front and back, it's versatility and light weight makes for a very comfortable fit.
FLYCAM GALAXY STABILIZER ARM
The arm incorporates our advanced engineering and precision machining making it light weight, strong and the most sophisticated stabilization system in its price range providing fluid moving shots and increased cinematic capability. When the cameraman moves, the base of the arm moves as well. But the spring system in the rest of the stabilizer arm responds to the weight of the sled. Instead of a sharp jolt, the camera shifts its position smoothly. The camera will glide in low mode video shots even in jerks.
FLYCAM HD-3000 CAMERA STEADYCAM SYSTEM (Revised on 6-Oct-2015)
Designed for use with DSLR or DSLM's as well as medium sized camcorders, it's perfect for both professionals and budding filmmakers. The micro balancing head plate of the video stabilizer allows the precise & accurate camera adjustment on the head plate.
METAL PRO QUICK RELEASE PLATE

A Quick Release, no-tools, drop-on camera plate allows you to quickly attach or remove your camera. Plate has both 1/4" and 3/8" mounting slots (holes) to accommodate a variety of camera bases. Adjustments can be made using both the horizontal and vertical axis. Camera Mounting Platform allow you to adjust the camera's horizontal & vertical balance. Ergonomic, control knobs allow quick, precise adjustment of the top stage's back and forth, and side-to-side movement.
IMAGE GALLERY