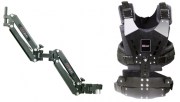 INCLUDED
-  Flycam Galaxy Steadycam Arm 
-  Flycam Galaxy Steadycam Vest 
-  Storage Case
SPECIFICATIONS
-  Construction : Solid Aluminum 
-  Accepts weight according to the spring 
    you have attached: 
     • Blue for 1kg to 5kg 
    • Red for 5kg to 10kg
-  Stabilizer Arm weight: 2.3 kg/5lbs 
-  Body Vest weight - 2.1 kg/5lbs 
-   Waist size: 28" to 60" 
FEATURES
-   We provide two types of springs:
Blue for 1kg to 5kg
Red for 5kg to 10kg
-  CNC-machined aluminum construction.
-  Dual spring loaded steadycam arm. 
-  Adjustable chest plate to fit many various body sizes and types. 
-  Adjustable straps with easy clip buckles.
-  Versatile and Ergonomic design.
-  You can mount the arm on either side of the vest for left or right handed use.
-  Superior performance
-  Removes undesirable camera movement.
-  Fast and easy assembly. 
-  100% Satisfaction Guarantee 
FLYCAM GALAXY STEADYCAM VEST
The FLYCAM Galaxy Handheld Stabilizer support Vest is crafted by soft padded snug fit fabric with an ergonomic comfort design. The front arm mount ensure to ease operator stress over lengthy shoot days. It ensures the universal fit for all body types with the easy adjustable Velcro straps. Once fitted, no further adjustments needed. Guaranteed comfort with the four-strap suspension system let you quickly put on and remove of the system.
FLYCAM GALAXY STEADYCAM ARM
The Flycam Dual Arm system is precision CNC-machined aluminium black powder coating that makes it durable and corrosion less unit. It's our sophisticated camera stabilizer system in its price range providing fluid moving shots and cinematic capability. Dual arm can move up and down, as well as swivel in and out, and side-to-side. The 16 mm arm connector provides a precision fit to the Stabilizer handle. Solid, machined metal, nonslip, connector pin securely join the steadycam arm and steadycam vest together. The combination of moving and swivel action of the support arm isolates your motions from the camera in a way that creates balanced and effortless camera shots.
IMAGE GALLERY
Ergonomically designed for hours of shooting without undue fatigue
The Supportive accessories are for demonstration purpose only.