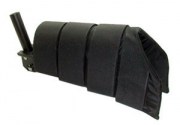 ปลอกแขนสำหรับ Flycam และ Glidecam ช่วยลดน้ำหนักที่กดลงบริเวณข้อมือ ทำให้ถือสเตดิแคมได้นานขึ้น สามารถปรับขนาดให้เข้ากับสรีระได้ ด้ามจับปรับมุมเอียงได้ตามต้องการ
Allows freedom for panning, tilting, booming or running, ground revealing shots without any camera shake that lets you take complete creative control over the footages you click.Creativity made easy with pictures-perfect results !
FEATURES

-  Aluminum support bar runs full length of the brace.
-  Ergonomically designed lightweight support for tremendous Handheld Camera footages.
-  Adjustable comfort angle for grip handle.
-  Multiple adjustment handle positions.
-  Soft surface padded grip handle.
-   Arm Support – Aluminium.
-   Anti-reflective matte black finish.
-  Foam padded wearing comfort.
-  Secure non-slip mounting with Velcro straps.
-  Custom fit adjustments.
-  Quality construction.
-  100% Satisfaction Guarantee.
Comfortable and secure arm support for long day shooting