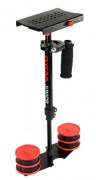 Flycam Junior สเตดี้แคมขนาดเล็กกะทัดรัด ให้ความคล่องตัวสูง รับน้ำหนักกล้องได้ถึง 2 กก. ช่วยให้ภาพที่ได้มีความนุ่มนวลสวยงาม พร้อมเวทถ่วงน้ำหนัก และกระเป๋าสะพาย
Loaded with incredible features Flycam Junior Camera Stabilizer is the most handy & elegant mini steadycam handheld stabilizer that adds an extra element to your professionalism! Even when running up and down stairs, you will get the smooth footage, with no noticeable movement from the operator's stepping motion. It allows you to take the handheld footages for your cameras weighing up to 1.5kg/3.3lb. Its tool less telescopic sled is adjustable & reaches up to a height of 55cms from 37cms & also helps in attaining the perfect vertical balance. Stunning, graceful & miraculous moves are the results of shooting with our Flycam Junior video steadicam. 
NOTE: Handle's Foam Design may vary according to the availability.


Video is for demonstration only
Actual Product may vary due to Product Improvements
Specifications
-  Weight disc diameter - 65mm 
-  Weight thickness - 4.5mm 
-  Single disc weight - 95 grams 
-  Diameter of sled - 23mm 
-   Construction - Aluminum black anodized video stabilizer
-   3 axis fatigue free soft handle grip.
-   Camera load capacity -1.5kg/3.3lbs
-   Steadycam Length extendable from 37cm to 55cm
-  Counter weight Quantity – 16pcs
SPECIFICATIONS OF UNICO QUICK RELEASE
-  Material: Polymide 66 
-  Color: Matt Black 
-  Dimension: 135*72*20mm 
-  Self Weight: 135g (0.30 lbs) 
-  Accepts both 1/4" or 3/8" mounting screw size  
TOP PLATFORM

The Camera Base plate of the video stabilizer has 1/4"-20 mounting slots (holes) to accommodate all variety of camera bases. Ergonomic, control knobs allow quick, precise adjustment of the top stage's back and forth, and right-to- left side movement. These controls allow you to adjust the camera's horizontal balance




GIMBAL HANDLE

- Ball Bearings for smooth rotational movement
- Grip swivels left and right from the bolt 
- Angle bracket enables grip to move up and down 
- Comfortable handle moves up and down or side-to-side according to your need





WEIGHT PLATE

Counterweights on the base platform adjust the camera's Dynamic balance. You can add or remove weights as required.




TELESCOPIC POST
In order to adjust the camera's vertical balance you can adjust the length of telescopic Central Post. Once it get balanced properly the camera floats, ready for your shooting.
UNICO QUICK RELEASE (QR-5)
Quick Release Adapter is capable of holding medium format DSLR cameras. The faster option for changing the camera makes it a best choice steadycam for all professional photographers.
IMAGE GALLERY