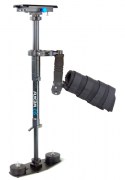 Flycam proudly represents its rugged, lightweight and professional Camera Stabilizer that allows you to capture Hi-end shots with better stability and flexibility. When it comes to Flycam, you need not worry about the quality & functionality of your gear. 

The Flycam C5 hand held stabilizer designed with rigid and strong aircraft aluminum yet to be lightweight and at the same time comfortable to use with Arm Support Brace for long hour shooting. Its precision camera mounting platform includes sliding quick release plate that offers quick mounting and dismounting of your camera. The ball bearings ensures a smooth rotational motion. Telescopic sled with unique weight disc design offers you to adjust vertical balance.
Specifications
-  Black Anodized Aluminum Construction.
-  Accepts cameras up to 6kg/13.2lbs
-  Telescopic Post extends from 52cm to a full rise height of 81cm
-  Camera Mounting screw 1/4" and 3/8"
-  No of weight disc- 10
-  Weight of each disc-110gm
-  Product weighs -2.940 (with weight disc)
-  Arm Support Outer Dia - 18.44mm (upper) and 21.70mm (bottom) 
SCALING HEAD

Built in measuring scale for micro adjustment. This modern feature let you again balance the camera at the desired setting, not more than 30 second.
CAMERA QUICK RELEASE BASE PLATE 

Camera quick release base plate has both 1/4" and 3/8" mounting bolts to hold various camera bases. You can make the adjustments using both the horizontal and vertical axis.
X & Y BALANCING ADJUSTMENT

The X & Y adjustments on the camera platform helps to adjust the horizontal balancequickly. It has a zip lock feature that allows faster assembly compared to other hand held stabilizers. Micro head comes with gear and screw technology for adjusting X & Y-axis for quick and precise balancing
ADJUSTABLE GIMBAL

-  Ball bearings provides smooth rotational 'on axis' movement.
-  Grip swivels left and right from the bolt .
-  Angle bracket enables grip to move up and down for easy vertical movement.
SOFT GRIP HANDLE

The Handle of C5 Flycam is extra smooth, easy to grip move it up and down or side-to-side according to your need. Soft foam grip make it easy on hands and supplies slip free control.
BALANCING THE CAMERA

This Video Stabilizer system contains weight discs to balance the camera on stabilizer. Add or remove weights as per your camera's requirement.
TELESCOPIC POST

In order to adjust the camera's vertical balance you can adjust the length of telescoping Central Post, when balanced properly the camera floats, ready for your shooting.
STEADYCAM ARM BRACE 

Steadycam Arm Support Brace is very useful accessory for long duration shootings. It not only provides the operator with cushioned comfort while shooting, but also eliminates the torque, which would otherwise cause stress on the operator's wrist.
Perfect load distributing Arm Brace gives you fatigue free experience 

IMAGE GALLERY
Smart construction lets you generate amazing visual effect shots