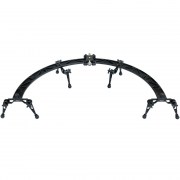 Proaim Curve-180 Curved Camera Slider
To Fulfill needs of the modern world of shooting with Straight camera sliders is not everytime's requirement, it's time for the change by adding a curved camera slider dolly in your tool box and give your shot compositions a jump start. Fully featured video slider with heavy - anodized aluminum construction, super-smooth glide rail, spirit level & tension adjustment, gives you the ability to create high-quality production shots without over-extending your budget. It gets attached directly to a tripod and may also be used stand-alone with the included feet.
Included
-  Proaim Curve-180 Curved Circular Camera Slider
-  4 x End Feet
-  Bag Packing
Specifications
- Material Made: Aluminum Construction
- Product Weight (without packing): 5kg/11lb
- Weighing Capacity: 10kg/22lbs
- Length: 3ft
- Width: 50mm
- Curve: 180 Degree
- Inner radius :- 1219mm 
- Outer radius :- 1443mm
SINGLE SLIDER DUAL ACTION

No need to setup two cameras for interview footage. Our one and only Proaim Curve -180 Curved Camera Slider smoothly captures both, the interviewer and subject at one go.
SMOOTHNESS WITH THE CURVE
Most sliders have their plate built in to the track. Our slider roller bearing plate sits on top of the track for quick removal and multiple set ups.
ADJUSTABLE & REMOVABLE LEGS
Fully adjustable and foldable leg design of the curve slider facilitates easy transportation.
ALSO AVAILABLE IN MOTORISED VERSION
LEARN MORE
IMAGE GALLERY
The supportive accessories are for demonstration purpose only.