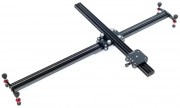 PROAIM 2D Dual-Axis Video Camera Slider
PROAIM 2D Dual-Axis Video Camera Slider รางสไลด์สองแกน รางหลักความยาว 90 ซม. รางเสริมยาว 60 ซม. ช่วยให้ได้มุมมองภาพที่หลากหลาย ระบบลูกปืนให้ความนุ่มนวล ตัวรางน้ำหนักเบาพกพาสะดวก สามารถปรับใช้เป็นรางเดี่ยวได้ รองรับน้ำหนัก 3 กก.
Specifications
- Construction: Aluminum
- Main rail length: 3ft
- Secondary rail length: 2ft
- Product Weight :- 2kg
- Extruded Rails (Dia 20*40mm)
- Double Load capacity: 3Kg
- Single load Capacity :- 20kg
- Wheels Details :- Delrin (Black) with Ball Bearings 625ZZ.
- Total 12 wheels with 24 ball bearing.
- Camera mounting: 1/4"-20
- Tripod mounting: 1/4"-20 & 3/8"-16
What if you could build projects quicker, easier & with more versatility than you ever imagined? Proaim brings you its first completely integrated 2D Camera Slider - a dual linear motion framing system. With this affordable slider, you end up with two sliders in one, and the range of possible camera movement expands exponentially as you're not limited to a single axis anymore. This strong, inexpensive & simple to use video camera slider allows you to capture 2-Axis motion - Horizontal & Vertical, with ease. This dedicated system provides smooth, precise and amazing results.
Extruded aluminum rail tracks provide maximum strength & lightness. The carriage plate helps to mount ball heads & video fluid heads easily. You can conveniently lock one track movement while the other can be taken in use and you can also lock the camera at one position.
COMPACT SLIDER
The 2D slider is more compact than you might think at first glance. The Slider comes in very handy when shooting in tight spaces as it defines precisely how much the top slider should extend perpendicularly over the bottom one.
SHOOTING POSSIBILITIES
The versatile slider can be used on a table or ground via skid-proof adjustable feet and can be mounted on a tripod as well. When you mount the slider on a tripod, both the slider tracks are functional simultaneously, unlike when using it on a flat surface.
Supportive accessories are for demonstration purpose only.