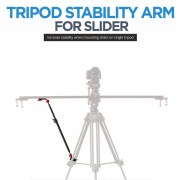 Konova Tripod Stability Arm for Slider
Konova Tripod Stability Arm for Camera Slider ขายึดรางสไลด์เข้ากับขาตั้งกล้อง ช่วยเพิ่มความมั่นคงให้กับรางสไลด์ สามารถใช้กับรางสไลด์และขาตั้งได้ทุกรุ่น ติดตั้งเข้ากับปลายรางสไลด์ที่มีรูน๊อต 1/4"
Features
Increases Stability When Tripod Mounting

For Sliders with 1/4"-20 Thread at Ends

Connects End of Slider to Tripod Leg

Extendable Design

Clamps to Most Tripod Legs
The Tripod Stability Arm for Slider from Konova increases the stability of your slider when mounting on a single tripod. One end of the arm clamps to a leg on your tripod and the other attaches to the end of the slider track via a 1/4"-20 thumbscrew. An extendable design and angle adjustable connectors that let you set the slider at the desired position, be it level or at an angle. While one support arm is usually sufficient, for angled shots adding a second arm is recommended.