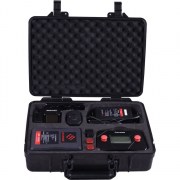 iFootage Wireless Motion Controller S1A1
iFootage S1A1 Wireless Motion Control System ชุดมอเตอร์สำหรับรางสไลด์ iFootage Shark Slider S1 พร้อมรีโมทคอนโทรลไร้สาย แบตเตอรี่ V-Mount ที่ชาร์จ สายลั่นชัตเตอร์ พร้อมเคสใส่อย่างดี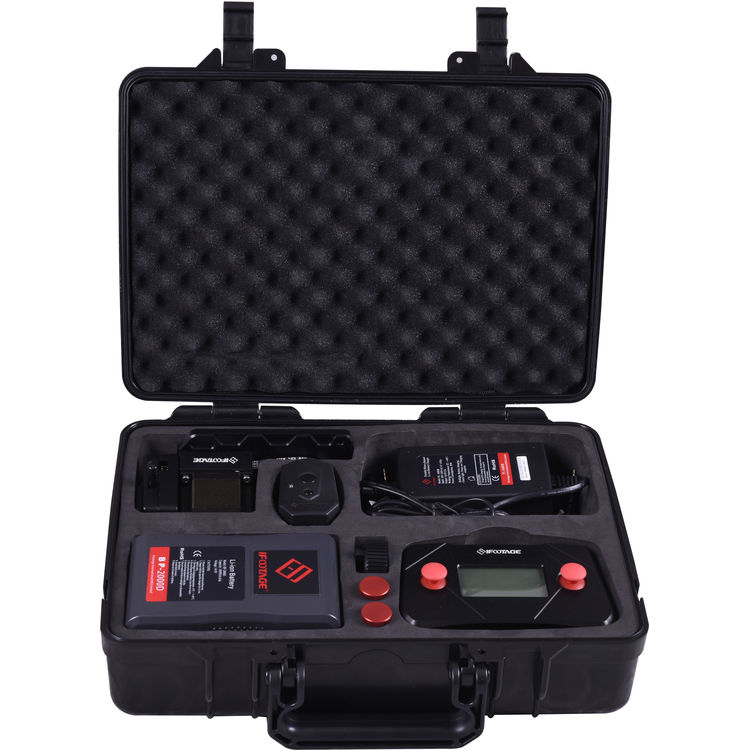 The S1A1 Wireless Motion Control System from iFootage enables you to add wireless motion control to your Shark Slider S1 (not included). The system consists of an electronic motor, a wireless shutter controller, and the wireless controller. This single-axis system provides steady, automatic moves for time-lapse and motion control moves. The time-lapse mode features a preview function to help you envision the finished shot. A manual mode lets you adjust movements on the fly. Up to nine moves can be programmed and repeated.
The included 95W battery attaches to the slider and will run the controller for up to 12 hours with continuous shooting, or up to 16 hours in time-lapse mode. The compact S1A1 Motion Control System includes seven camera shutter cables, a battery charger, and a carrying case. Camera rigs weighing up to 17.6 lb can be supported by the system.
Features
Adds wireless motion control to the Shark Slider S1 (not included)
Single-axis system with up to nine programmable moves
Supports cameras up to 17.6 pounds
Stop motion control and time-lapse mode with a preview function
Manual mode for on the fly shots
The included rechargeable 95W battery will run the system for up to 12 hours continuously, or up to 16 hours in time-lapse mode
Specifications
Speed Range: 0.04-6.3"/sec (1-160 mm/sec)
Location Accuracy: 0.0004" (0.01 mm)
Maximum Load: 17.6 lb (8 kg)
Motor Power: 8-32 W
Output Voltage: 14.8-24 V
Operating Frequency: 2.4 GHz
Remote Distance: 65.6' (20 m)
Speed Control: Adjustable speed, gearing speed
Remote Range
2.4Ghz remote control transmission speed, and up to 10 meters control distance. Shark Slider motorized module will greatly help you to achieve all the difficult angles remotely and you can even mount the slider upside down to the ceiling to get a spider man point of view.
Shooting Mode
The wireless controller has multiple shooting modes. The user can easily set general linear Time-lapse mode, shoot mode and video mode. 
User Interface
With the straightforward interface design, users will understand the operational flow quickly, making it easy to control whilst achieving an excellent outcome.  With the on-going firmware updates, the user experience will get better from time to time.
Powerful but Silent
Top quality stepper motor, with precision movement control whilst accuracy to 0.01mm.  The movement speed is from 0.01mm per second all the way to 160mm per second and is very QUIET.
Preview before Start
Unique preview function, see your framing angle and playback time in real-time before you start your Time-lapse, making it error free, saving time and cost.
Record path
Recorded path function can be used for video recording and time-lapse photography, and is able to set to a loop path. This function is good for interview situations when you need to focus on your object whilst moving at the same time to create the dynamic movement.
Hardware upgrade
S1A1 is fully upgradable to 3 Axis in the future, by adding the additional module. Stay tuned at our facebook page for more information. www.facebook.com/gearcontact
Future update
With the firmware update, S1A1 will improve the usability and functionality.