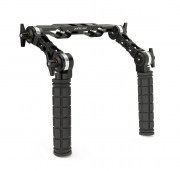 Camtree Hunt 19mm/15mm Rosette Handle Set
Camtree Hunt 19mm/15mm Rosette Handle Set ด้ามจับสำหรับชุดริกกล้องแบบพาดบ่า รองรับ Rod 15/19mm ปรับมุมแยกอิสระซ้าย-ขวา
MAXIMUM STABILITY & COMFORT
Shoot for long hours with complete stability and comfort with an elegantly designed Camtree Hunt 19/15mm rosette handle set that configures your rig for shoulder-mounted handheld shots.
It offers both 19mm studio and 15mm LWS rod ports on the handlebar, making it a perfect addition for both DSLR and Video rigs.
It features two points of rosette articulation for each handgrip, allowing multi-angle adjustments for different shooting scenarios
ABSOLUTE GRIPPING
The handle set is secured to your rods with quick lock levers, and there are also easy-to-use, quick ratchet levers for adjusting angle of handgrips.
Rubberized handgrips offer non-slip, firm grip to control your shots better and enhance a comfortable hand-held shooting experience
Specifications
Item Type: Dual Handgrips
Rotation: Yes
Mounting
Attachment Method: Attaches via Rod Ports
Rod Standard: 15 mm LWS / 60 mm Spacing
19 mm Studio / 104 mm Spacing
Rod Ports: 2 x 15 mm Rod Port
2 x 19 mm Rod Port
Shoe Mounting: None
Rosettes: 1 x ARRI Rosette w/ M6 Thread (per Handgrip)
Rail Mounting: None
General
Materials: Aluminum, Rubber, Steel
Packaging Info
Package Weight: 2.495 lb
Box Dimensions (LxWxH): 12.4 x 6.1 x 3.8"